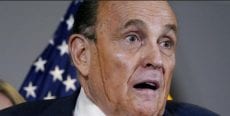 The New York Times Reports: Federal investigators executed a search warrant at the Manhattan apartment of Rudy Giuliani, the former mayor of New York City who was the personal lawyer of former President Donald Trump.
The search was conducted as part of a criminal investigation into Giuliani's dealings in Ukraine.
Federal prosecutors in New York last year were seeking approval from top officials at the Department of Justice to ask for a search warrant for Giuliani's electronic communications but were blocked by former AG Bill Barr. Now it seems the justice will finally come to "Rudy Colludy".