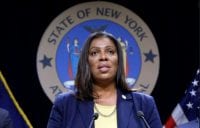 New York State Attorney General Letitia James' office — which already was conducting a civil investigation of former President Donald Trump's company — is now also probing the Trump Organization "in a criminal capacity" as well, her spokesman said Tuesday night.
James' spokesman implied that her probe is being done in conjunction with the criminal investigation of Trump and the Trump Organization by the office of Manhattan District Attorney Cyrus Vance Jr. (article continued after video)
The 2-year-old civil investigation by James was eyeing allegations that the Trump Organization had manipulated the stated value of real estate assets in order to lower their tax liability and to receive more favorable terms for loans and insurance.
Vance's office has been conducting a criminal investigation of those allegations, which first were made in congressional testimony by Trump's former longtime attorney Michael Cohen. Vance's probe also is focused on other issues.
"We have informed the Trump Organization that our investigation into the organization is no longer purely civil in nature," said James' spokesman, Fabien Levy.
"We are now actively investigating the Trump Organization in a criminal capacity, along with the Manhattan DA. We have no additional comment at this time," Levy said.
In late 2019, James scored a legal victory against Trump when a judge ordered him to pay $2 million to settle a lawsuit by the attorney general's office alleging that he had misused his Trump Foundation, a charity, to benefit his 2016 presidential campaign, along with other unlawful activity for more than a decade.
The Trump Foundation agreed in December 2018 to dissolve and to donate its remaining funds to charity as the AG's probe into the foundation continued.
CNBC has reached out to request comment from Trump's spokesman and from the Trump Organization, about the current AG's investigation becoming criminal in nature.
Source: CNBC