The GOP Has No Policies or Ideas, Only Lies About the Election and Voter Suppression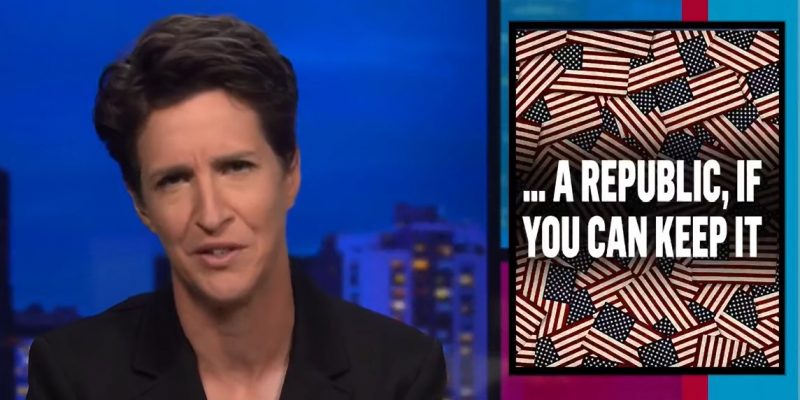 Three years into his term California's Gavin Newsom, a widely popular Governor may lose his job following the decision to hold a recall election by September 14. There is now a strong possibility that if he is recalled he could be replaced by Republican conservative Larry Elder.
That should not really raise any eyebrows except for the fact that Elder has already said that if he doesn't win the seat then that would mean that "shenanigans" are afoot.
Sound familiar? It seems the new go-to for Republicans, as was aptly pointed out by MSNBC's Rachel Maddow in the accompanying clip, is to claim that the election process is unfair and somehow is set up to bring down their party.
To get a better understanding of Elder's thinking here's what he had to say to reporters recently:
"What I believe is that no matter what they do — and I believe that there might very well be shenanigans, as it were in the 2020 election — no matter what they do, so many Californians are angry about what's going on."
He is of course receiving support from his former President Trump, who has already begun to stoke his supporters' fears that the election results will be tampered with. A claim he's been making since being booted out of the White House and which to date has been found to be baseless.
"It's probably rigged. The ballots… are mail-in ballots… I guess you even have a case where you can make your own ballot. When that happens, nobody's gonna win except these Democrats. The one thing they are good at is rigging elections, so I predict it's a rigged election," Trump said while speaking on Newsmax on September 7.
Elder is already a favourite among Trump supporters for his right-wing views during his long career as a radio talk show host and Fox News regular. He's been known to interview and air conspiracy theories on his show like those concocted by MyPillow CEO Mike Lindell, another Trump favourite.
As Maddow pointed out in her analysis of the upcoming election, it's still nine months to the primaries. This would suggest that this is definitely the new playbook for Republicans. Continually call the election process unfair and continue to create uncertainty in the centuries-old system. That may be whether or not they win or lose, or as she puts it, their new motto seems to be "Elections are a lie!"
She also highlighted the fact that Democrats seem to be rightly preoccupied with major national issues, like stemming the economic fallout from the pandemic, and the Afghan withdrawal. There are more than enough issues that need good governance at this time as she again accurately points out.
"Where all their energy is right now is on invalidating election results before they are even out. Unless they win those elections and even then," she added.
According to the latest information election tracking firm Political Data Inc. more than 6 million ballots have been cast as of yesterday, September 8. About 53% of those 6.4 million ballots which have been returned so far have come from Democrats, while Republicans have returned 25% another small indicator of how this one might turn out.
However, Republicans believe that many of their supporters will vote in person because of the fears that they have of the mail-in system after their candidate lost the 2020 elections. What's left to be seen is that if Elder wins the vote if he will call the election machine into question for giving him the win.