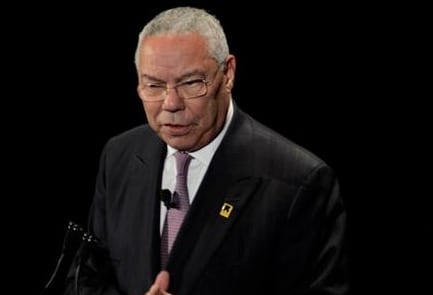 The first black US secretary of state, Colin Powell, has died following complications arising out of the Covid-19 virus. His family confirmed the unfortunate news via social media. In a simple message of Facebook, the statement read, "General Colin L. Powell, former U.S. Secretary of State and Chairman of the Joint Chiefs of Staff, passed away this morning due to complications from Covid 19."
He will be remembered for his role of helping to guide American foreign policy during his time in office. He was 84-years-old. Even though Powell was fully vaccinated, he suffered from multiple myeloma, which is cancer that negatively affects the body's immune response. He was also suffering from Parkinson's Disease.
Notably, Powell will also be remembered for his impressive career as a professional soldier. He served during the Vietnam war and would rise to prominence as the first black national security adviser during the end of Ronald Reagan's presidency. Not only that but he was the youngest and first African American chairman of the Joint Chiefs of Staff under President George H.W. Bush.
At one point during his career, he was considered to be in the running to become the first back US President especially after his US-led coalition victory during the Gulf War. However, his popularity declined after it was discovered that he provided faulty intelligence before the United Nations to advocate for the Iraq War.
Tributes pour in
Former President Bush described Powell as "a great public servant". He added that "that he earned the Presidential Medal of Freedom — twice. He was highly respected at home and abroad. And most important, Colin was a family man and a friend."
Current President Joe Biden described Powell a "dear friend" and a dedicated public servant who broke barriers. He had high praises for his service to the US.
He added: "Colin embodied the highest ideals of both warrior and diplomat. He was committed to our nation's strength and security above all. Having fought in wars, he understood better than anyone that military might alone was not enough to maintain our peace and prosperity.
From his front-seat view of history, advising presidents and shaping our nation's policies, Colin led with his personal commitment to the democratic values that make our country strong. Time and again, he put country before self, before party, before all else — in uniform and out — and it earned him the universal respect of the American people."
Former Vice President Dick Cheney, who shared a close working relationship with Powell under Bush shared his sadness at the loss. He added that he was deeply saddened to learn that America has lost a leader and statesman. He described him as a remarkably distinguished person with an outstanding career.
Former Secretary of State Madeleine Albright also shared her thoughts.
"Although we grew up in different contexts, we bonded over our family's immigrant stories, our deep love of America, and our belief in the importance of public service," she said in a statement.
His successor Condoleezza Rice, described him as a trusted colleague and a dear friend who helped her to get through some very challenging times. The current Secretary of State Antony Blinken said that Powell gave the State Department the very best of his leadership, his experience, and his patriotism.
Neither Republican nor Democrat
Later in his political career, Powell would no longer choose sides and would not be relied upon to be a friend to the Republicans. In fact, he openly stated that he grew tired of the Republican party and was disillusioned as well. He would become instrumental in helping the Democrats to elect Barack Obama, the first Black president to the White House.
He would maintain his stance against the Republicans when in 2016, he revealed that he voted for Hillary Clinton in 2016 over Donald Trump. He once described Trump as a national disgrace and an international pariah. In 2020, he repeated the same actions and would go on to endorse President Joe Biden.
He also weighed in on the insurrection at the US Capitol in early January 2021 when he told CNN that he no longer considered himself a Republican.
"I can no longer call myself a fellow Republican. I'm not a fellow of anything right now," he said while being interviewed by CNN's Fareed Zakaria on "GPS."
"I'm just a citizen who has voted Republican, voted Democrat throughout my entire career. And right now, I'm just watching my country and not concerned with parties," he said at that time. He will surely be remembered for his dedicated service to the US and his outstanding career as a soldier.