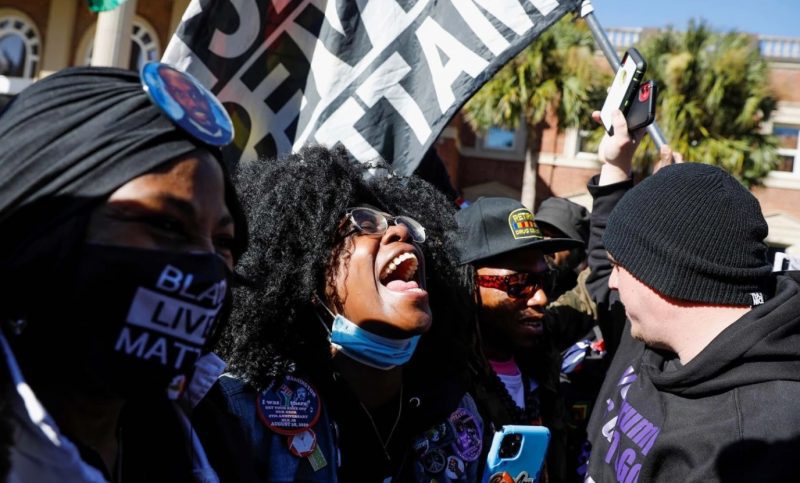 Three white men have been found guilty of murdering  Ahmaud Arbery the 23rd February, 2020. The verdict was announced on Wednesday for the shooting of Ahmaud Arbery, who was running in their neighborhood before the encounter. 
The verdict was delivered by nearly an all-white jury. It was delivered after 11 hours of deliberation spanning 2 days. This was followed by 8 testimonies and included 23 witnesses. All of them faced nine counts, with Travis McMichael, one of the murderers convicted of aggravated assault, felony murder, malice murder, false imprisonment, and criminal attempt to commit a felony. His father, Gregory McMichael, also one of the murderers was convicted of eight of those charges except malice murder. William "Roddie" Bryan Jr, a neighbor who had recorded Arbery's final moments is guilty of felony murder, aggravated assault, false imprisonment, criminal attempt to commit a felony. They all face up to life in prison.  Superior Court Judge Timothy Walmsley had previously instructed jurors to regard simple assault, reckless conduct, and reckless driving as lesser charges to aggravated assault for Bryan.
Arbery's parents were seen outside the courthouse after the verdict, praising their supporters and the efforts of the prosecutors to bring their son justice. This case captured the nation's attention, giving light to crimes that are racially driven. Benjamin Crump, the civil rights attorney presenting Arbery's father, Marcus Arbery said, "Even though this is not a celebration, it is a reflection to acknowledge that the spirit of Ahmaud defeated the lynch mob,"
Arbery's mother, Wanda Cooper-Jones said, "It's been a long fight. It's been a hard fight, but God is good. … I never thought this day would come, but God is good, and I just want to tell everybody thank you, thank you for those who marched, those who prayed."
The men believed that Arbery had committed a crime. Evidence shown in the trial showed video footage of men chasing Arbery through the streets as he continuously tried to evade them. The McMichaels were armed and in one vehicle, while Bryan joined the chase midway in his truck, recording and assisting the chase. Arbery was on foot and unarmed.
The video footage showed Travis exiting the truck, confronting Arbery before shooting him. Gregory watched from the bed of his truck. All the men pleaded not guilty, with the McMichaels claiming they were acting in self-defense and conducting a citizen's arrest. Bryan said he didn't participate in the killing. Gregory McMichael, an ex-police officer and an ex-investigator in the county's prosecutor office, told authorities that Arbery and Travis tussled over the shotgun and Travis shot Arbery after he was attacked.
On the stand, Travis claimed the same statement saying he acted in self-defense after Arbery grabbed his shotgun. After cross-examination, Travis admitted that he had told investigators he didn't know whether Arbery grabbed his gun, and also neither he nor his father mentioned the citizen's arrest to the police.
Travis testified that he was apparently "scattered", "traumatized" and "mixed-up" hours after the shooting. A seemingly fitting explanation according to him for his inconsistencies.
As the proceedings began, Bryan's attorney, Gough repeatedly requested mistrials because of the presence of African-Americans in the jury. He complained of the pool saying, "It would appear that White males born in the South, over 40 years of age, without four-year college degrees, sometimes euphemistically known as 'Bubba' or 'Joe Six-Pack,' seem to be significantly underrepresented."
Judge Timothy Walmsley expressed his concern saying, "This court has found that there appears to be intentional discrimination,".
During closing arguments, Laura Hogue, one of the defense lawyers of the Gregory McMichaels said, "Turning Ahmaud Arbery into a victim after the choices that he made does not reflect the reality of what brought Ahmaud Arbery to Satilla Shores in his khaki shorts with no socks to cover his long, dirty toenails,"
This statement showcases the racial division nationwide and why it became a part of the national outcry.