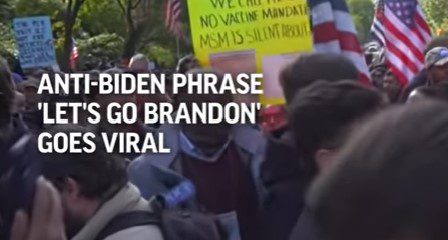 Conservatives believe that they've found an ingenious way to insult President Joe Biden, even though for many the slang is not offensive and just not that creative. The line "Let's Go Brandon" has been trending on various social media platforms and exploded among conservatives over the last weekend.
It's supposed to represent a crude and unpolished insult when translated among those in that circle to mean, "F—- Joe Biden." It has become the slogan for conservatives to show their undying loyalty to their party's beliefs.
It all started during an October 2 NASCAR race at the Talladega Superspeedway in Alabama. Brandon Brown had won his first Xfinity Series and was being interviewed by an NBC Sports reporter. During the 28-year-old driver's interview, the unruly crowd behind him began chanting something that was not discernable to the ear. The reporter thought that they were chanting "Let's go, Brandon."
In reality, it turned out to be "F—- Joe Biden."
Let's go, Brandon hits mainstream conservative usage
As the slang caught on and began to be regularly used, Republican Rep. Bill Posey of Florida ended an October 21 House floor speech with a fist pump and the phrase "Let's go, Brandon!". That move gave the slang even more impetus. Next, South Carolina Republican Jeff Duncan wore a "Let's Go Brandon" face mask at the Capitol last week.
In true republican style, others followed on, including Texas Senator Ted Cruz who recently posed with a "Let's Go Brandon" sign at the World Series. Senator Mitch McConnell's joined the movement when his press secretary retweeted a photo of the phrase on a construction sign in Virginia.
As the slang continues to gain momentum, President Biden has had to deal with the childlike taunting. When he visited a construction site in Chicago a few weeks ago to promote his vaccinate-or-test mandate protesters used the slang, although to be fair they also used the real curse words as well.
According to AP news, another group chanted "Let's go, Brandon" outside a Virginia park when he made an appearance on behalf of the Democratic candidate for governor, Terry McAuliffe.
Southwest pilot under investigation for using the slang
Following a flight from Houston to Albuquerque, on a Southwest flight, the pilot slipped in the slogan during his public greeting thanking everyone for taking the flight. Reports indicate, as is to be expected, not everyone was amused by the usage of derogatory slang. The incident is said to have happened last Friday, October 29.
One report, according to Colleen Long, an Associated Press reporter who was aboard the flight indicated that there were audible gasps from some passengers. She first broke the story.
Southwest has since released a statement in which they said that the company, "takes pride in providing a welcoming, comfortable, and respectful environment" and that such "behaviour from any individual that is divisive or offensive is not condoned."
The company added: "Southwest does not condone employees sharing their personal political opinions while on the job serving our customers, and one employee's individual perspective should not be interpreted as the viewpoint of Southwest and its collective 54,000 employees.
"Southwest does not tolerate any behaviour that encourages divisiveness, as it does not reflect the Southwest Hospitality and inclusiveness for which we are known and strive to provide each day on every flight."
We know many of you have heard about recent statements that may have been made on a Southwest flight, and we wanted you to hear directly from us. pic.twitter.com/CYh0MugYxd

— Southwest Airlines (@SouthwestAir) October 31, 2021
Southwest confirmed yesterday October 31, that an official investigation had been launched into the pilot's actions. The moment has since gone viral on Tik Tok, as a post of the incident is making the rounds.
Trump cashes in on the trend
It's no surprise that former President Trump has already begun to cash in on the slang. His Save America PAC now sells a $45 T-shirt and it features, "Let's go Brandon" above an American flag. He's even included a message to supporters that reads, "#FJB or LET'S GO BRANDON? Either way, President Trump wants YOU to have our ICONIC new shirt."
All of the attention hasn't helped the actual driver much either. He remains part of an underfunded team owned by his father that still doesn't have any major sponsorship.