Don JR., and others including Fox News hosts texted Trump to call off his rioters
"He's got to condemn this sh-t ASAP", said Jr.
"I am pushing it hard. I agree", Meadows replied.
"We need an Oval Office address. He has to leave now. It has gone too far and out of hand", said Jr.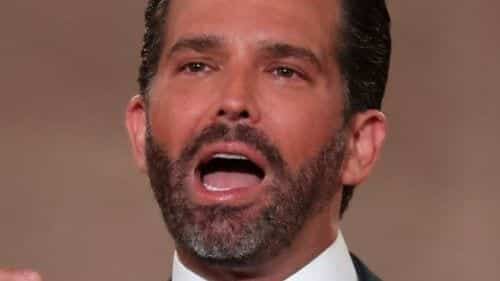 All these messages indicate only one person- Trump. The shadow leader and creator of that riot. He is entirely responsible for what unfolded in the Capitol that day. Instead of stopping the chaos, Trump and his allies watched the horror, as his supporters stormed the capital, injuring people and officers. 
It was only after a while that the leader of the riot released a short video telling the protestors to go home, adding in the end "We love you. You are very special."
The House is currently investigating the riot and has been continuously trying to receive cooperation from Meadows but to no avail. There was a debate last Tuesday, whether to level a criminal contempt charge against Meadows.
Meadows provided these text messages before his lawyer said in a letter dated December 7th, that his client would not appear for deposition the next day. Meadows has provided the House with around 2,000 text messages and 6,600 records from personal email accounts. Despite his refusal to cooperate, these text messages have shed new light as to how Trump led the riot in the Capitol. Before the riot, Trump urged his supporters to take the country back in a speech claiming electoral fraud. 
Jr. seemed to be the only one concerned about the outcome. Meadows also received various other text messages from Fox News Hosts Sean Hannity, Laura Ingraham, and Brian Kilmeade.
These text messages are clearly showing the people involved and who knew what would unfold that day in the Capitol. However, Fox News has been deflecting the blame from Trump to left-wing activists. Of course, this blame is without any evidence.
Fox News hasn't commented on the text messages and is highly unlikely to since they have been saying the opposite this whole year.
"Hey Mark, the president needs to tell people in the Capitol to go home", Ingraham texted to Meadows also adding that he is "destroying his legacy". However, to the viewers, she said, "From a chaotic Washington tonight, earlier today the Capitol was under siege by people who can only be described as antithetical to the MAGA movement. Now, they were likely not all Trump supporters, and there are some reports that antifa sympathizers may have been sprinkled throughout the crowd."
"Can he make a statement? … Ask people to leave the Capitol.", Hannity texted to Meadows. However, to the viewers, "I'd like to know who the agitators were. I don't care if the radical left, radical right — I don't know who they are. They're not people I would support. So how were officials not prepared? We got to answer that question. How did they allow the Capitol building to be breached in what seemed like less than a few minutes?"
He also added that true supporters of Trump do not support acts of violence.
"Please get him on TV. Destroying everything you have accomplished.", texted by Kilmeade to Meadows. However, to the viewers, "I do not know Trump supporters that have ever demonstrated violence that I know of in a big situation."
What a joke right?
None of the Fox News hosts mentioned above discussed the text messages on their primetime programs and even when Hannity interviewed Meadows that night when the messages were revealed.
Last Monday night, Rep. Liz Cheney (R-Wyo.), the panel's vice chairwoman, read the messages out loud and said they are now left with no doubt. She said, "The White House knew exactly what was happening at the Capitol."
The hearing ended with the panel voting to recommend contempt charges against Meadows. But no, "He is an honorable man. He shouldn't be put through this.", says the "honorable" Trump.