An enlightening piece in 'The Atlantic' is a frightening reality for American democracy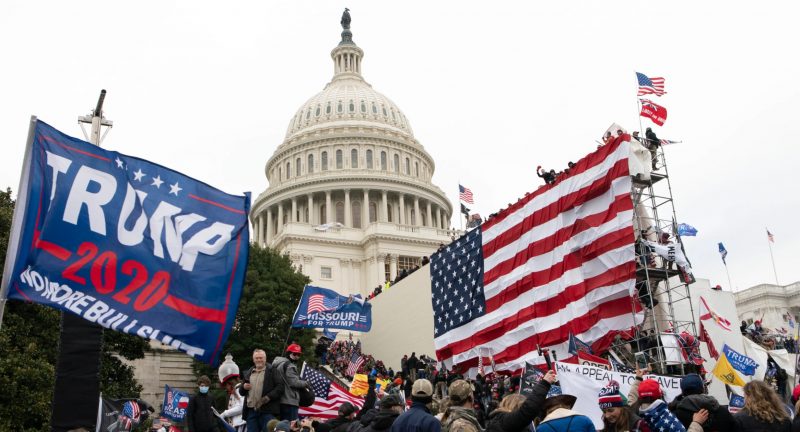 "If the plot succeeds, the ballots cast by American voters will not decide the presidency in 2024." In a special issue published by The Atlantic, staff writer Barton Gelman said that "January 6 was practice. Trump's GOP is much better positioned to subvert the next election."
Given whatever unfolded on January 6th, the possibilities of subverting the next elections don't seem to be unpredictable. The special issue discussed American Democracy in crisis, where Gelman spoke about Trump's increasing strength and his chances of seizing the office for a second round. Gelman wrote, "clear and present danger that American democracy will not withstand the destructive forces that are now converging upon it."
Over the previous year, Trump and his allies exploited the electoral process by identifying their weak points, censuring, dismissing official refusing orders to find "extra" votes, or certifying the election for Joe Biden. With their increasing influence, Republican operatives are at work to fully build an apparatus of election theft. They seem to be refining legal arguments that would claim to allow legislators to take over the choice of voters.
Gelman reports in the issue how by pushing the Big Lie, Trump started a political mass movement and that too a violent one. He wrote, "The Trump team achieved something crucial and enduring by convincing tens of millions of angry supporters, including a catastrophic 68 percent of all Republicans in a November PRRI poll, that the election had been stolen from Trump. Nothing close to this loss of faith in democracy has happened here before. Even Confederates recognized Abraham Lincoln's election; they tried to secede because they knew they had lost."
As the first anniversary of January 6th inches closer, investigators are still digging about the roots of that insurrection, which created havoc in the Capitol.
Back on January 6th, at 1.35 pm, Mitch McConnell, a top Republican in the US senate, delivered a warning saying that the party overruled the will of 81 million people in a bid to snatch the elections from Joe Biden. He said, "If this election were overturned by mere allegations from the losing side, our democracy would enter a death spiral. We'd never see the whole nation accept an election again. Every four years would be a scramble for power at any cost."
It was 5 minutes before he started speaking and hundreds of Trump supporters incited his false claims of electoral fraud. The disaster that followed next was the breakdown of American democracy, the death of 5 people, and 138 injured police officers.
McConnell's warning seems to be coming true, with the stage being set for the 2024 elections. The loyal Republican leaders of Trump are taking control of the key states. And with Trump hinting that he may stand again, the Republican leaders are positioning themselves at critical points from which they could alter the election results, basically launching a sophisticated or if required a violent electoral coup.
In the special issue, Gelman also wrote, "Our two-party system has only one party left that is willing to lose an election. The other is willing to win at the cost of breaking things that a democracy cannot live without. Democracies have fallen before under stresses like these, when the people who might have defended them were transfixed by disbelief. If ours is to stand, its defenders have to rouse themselves."
Protect Democracy and its partner organization States United Democracy Center, a non-partisan group have recorded a total of 216 bills introduced this year in 41 states, mainly centered around politicizing, criminalizing, and interfering with the election administration. These bills seem to increase the power of the Republicans-controlled state, handing over powers to radically partisan lawmakers. Interestingly, the largest concentration of the bill falls in those state that was closely tied in the 2020 elections and where the next candidate is most likely to be decided- Arizona, Georgia, Michigan, Wisconsin, and Texas.
Ben Ginsberg, an election lawyer who represented 4 of the last 6 Republican presidential nominees said, "In 2020 Donald Trump put a huge strain on the fabric of this democracy, on the country. In 2024 the strain on the fabric could turn into a tear." Gelman wrote, "The winner will be declared the loser. The loser will be certified president-elect." Seems like it won't be only a tear, but a big hole in the fabric of democracy.