Donald Trump reportedly tested positive three days before the debate with Joe Biden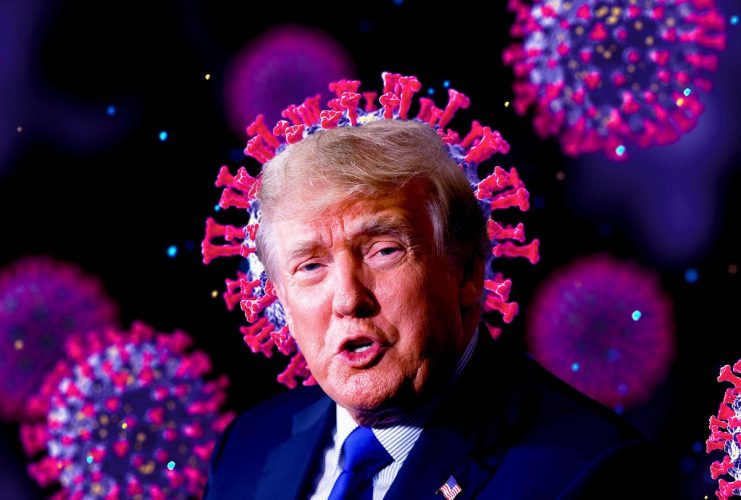 According to Mark Meadows, the former White House chief of staff, Trump was tested positive when he was heading to a campaign rally in Pennsylvania on September 26th, 2020. This rally was held three days before the debate in Cleveland against Joe Biden.
Trump withheld the positive test results and also asked his advisers to conceal their positive test results. Shortly before Trump tested positive, four other employees of the White House tested positive.
He knowingly put people at risk (especially the older age group) by meeting them maskless, at indoor close-spaced events. Along with this, it was also documented that many people became severely ill or tested positive after meeting him. After getting the positive test result, the basic decency for any human being would be to isolate themselves and not put people's lives at risk, however, "Nothing was going to stop [Trump] from going out there," Meadows writes in his memoir.
Meadows, a seemingly religious man, wrote in a rather clean manner that when Trump was tested positive said, "Oh spit, you've gotta be trucking lidding me." Not long after the first test, Trump reportedly tested negative the second time, however, he chose to believe what he wanted to believe.
Meadows and two other former officials confirmed that Trump tested positive on the 26th of September 2020. In his memoir, The Chief's Chief, Meadows got to know the results when Trump was taking off on Marine Force One from the White House to Pennsylvania. According to memoir, Meadows says that Sean Conley, White House physician, told the staff, "Stop the president from leaving. He just tested positive for COVID." By that time, Meadows couldn't block the takeoff, however, he passed the message to Trump after a while, when he was boarding Air Force One. He said, "I've got some bad news. You've tested positive for Covid-19." Sometime after that though, while Trump was still on the plane, the White House administered another test with a product called BinaxNOW, with which he got negative results. The second test though did not remove the potential accuracy of the first test, since that time under the protocol set by the Centers for Disease Control and Prevention, Trump should have immediately isolated himself. The CDC protocol was, "A single negative test does not mean you will remain negative at any time point after that test. Even if you have a negative test, you should still self-isolate for 14 days." The next day itself Trump met with Golden Star Families at the White House, was sitting next to guests and speaking on a podium just a few feet away from the front row. According to the Washington Post, the guests did not wear masks at "Trump's insistence". In addition, in an interview, Trump said that the family members wanted to kiss and hug him. He did mention that it was "obviously dangerous", but also said, "Frankly, I'm not telling them to back up." He was also 10 feet away from his aides on the right and reporters in front of him.
On September 28th, Trump held two more events, which strangely included an update on the nation's COVID testing strategy and he also held an in-person meeting with a CEO only 3 feet apart.
The debate which took place on the 29th of September was nothing short of a disaster for Trump. He was sweaty, an orange ball of mess, constantly interrupting Biden. Then, the next day he went to a campaign in Duluth, Minnesota, where he made fun of Biden encouraging the public to practice social distancing at his events. It was during the first few days of October when Hope Hicks said she tested positive. This was followed by Trump's tweet where he mentioned that he and the First Lady too tested positive, and was then later taken for treatment to Walter Reed National Military Medical Centre.
The second test done with BinaxNOW, was later reviewed by CDC and it was found that the product failed to detect COVID infections in 2 of every 3 asymptomatic carriers. Meadows also wrote in his memoir that on the day of the debate, he noticed that Trump's dark circles had deepened and he was moving slower than usual.
Meadows pleads that he "didn't want to alarm the public" at that time, however, as chief of staff and with Trump's apparent physical condition, Meadows should have worried whether those negatives were even right.
Regardless, it is basic decency that once tested positive, one should quarantine themselves and maintain the protocols handed down during the time of testing. However, since we are talking about Trump, rules, and protocols probably don't mean anything to him. One can only wonder now how many times he has deceived the public and even lied.