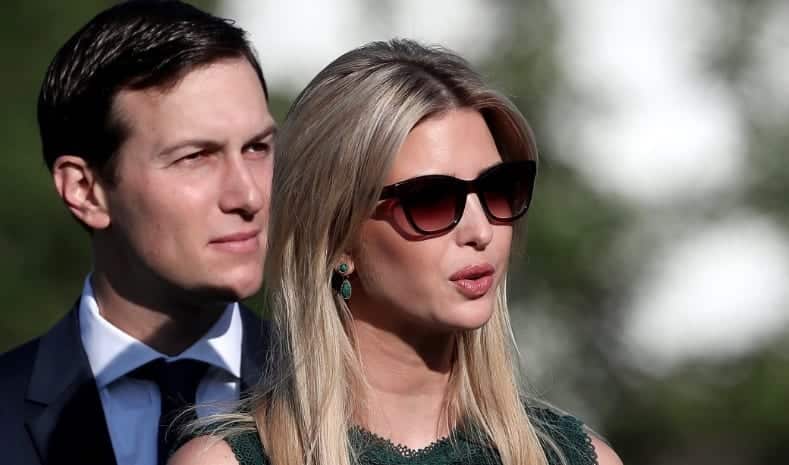 Donald Trump's oldest children, Donald Trump Jr. and Ivanka Trump have been subpoenaed by New York Attorney General Letitia James, who is investigating fraudulent practices in Trump's organization. 
The subpoena seems to seek testimonies and documents 'in connection with an investigation into the valuation of properties owned or controlled by Donald J. Trump or the Trump Organization, or any matter which the Attorney General deems pertinent.'
A spokesperson for James said, "As her investigation into financial dealing of the Trump Organization continues, Attorney General James is seeking interviews under oath of Donald Trump, Donald Trump Jr., and Ivanka Trump. Despite numerous attempts to delay our investigation by the Trump Organization, we are confident that our questions will be answered and the truth will be uncovered because no one is above the law."
Without missing a beat, Trumps went ahead to quash the subpoenas on Monday night.
Alina Habba, who is representing Trump in this case, released a statement to Forbes on Monday saying, "Her actions are a threat to our democracy and I plan to hold her accountable to the fullest extent."
Trump even sued James on December 21st claiming her investigations into the former President are politically driven and that it violates his constitutional rights. On a call with CBS News, Trump called himself as the "innocent" party, whereas James probe is a "hoax".
James' investigation into the organization is to figure out whether Trump has overvalued his assets to obtain more loans, while also undervaluing his assets to save on tax. This is a civil probe and if found guilty, could possibly lead to a lawsuit. However, other than that, James' office is also involved in a separate criminal probe led by the Manhattan District Attorney office (also known as DANY). Their investigations have resulted in charges against the Trump Organization and the CFO, Allen Weisselberg.
James' office has subpoenaed various documents as part of the investigation of many Trump properties, including the Seven Springs estate in Westchester County and the Trump International Hotel & Tower in Chicago. Her office hasn't released a statement regarding the lawsuit.
Trump's lawyers argue that James is trying to leverage this civil probe to aid in this criminal probe led by DANY, that she joined earlier. They say that she is trying to sidestep the grand jury process in the criminal probe by seeking information from Trump's family under the pretense that it's a part of civil inquiry. This way, she will be able to obtain valuable information for the criminal investigation, without giving them any immunity from prosecution required by the New York law if they were to testify before a grand jury. Ronald P. Fiscetti, another representative of Trump in this case said, "She cannot wear two hats and do a civil investigation and a criminal investigation with the D.A. at the same time." Alan S. Futerfas, representing Donald Trump Jr. and Ivanka Trump, argued that James's subpoenaing actions "circumvent the rights to grand jury protections we all have."
James released a statement which said, "These delay tactics will not stop us from following the facts or the law, which is why we will be asking the court to compel Donald Trump, Donald Trump Jr. and Ivanka Trump to testify with our office under oath. Our investigation will continue undeterred."
Now, refusing to testify could prove bad for the Trump's family in civil inquiry, as in such cases, judges and juries are allowed to take refusals into account. However, prosecutors in criminal investigations are prohibited to use the defendant's silence against them.
James' investigation has been ongoing since 2019 and Eric Trump, another son, was already questioned in October 2020 by her office.