EXPLOSIONS IN MULTIPLE UKRAINIAN CITIES
CLICK HERE TO WATCH THE LIVE STREAM BREAKING NEWS. READ THE FULL STORY BELOW.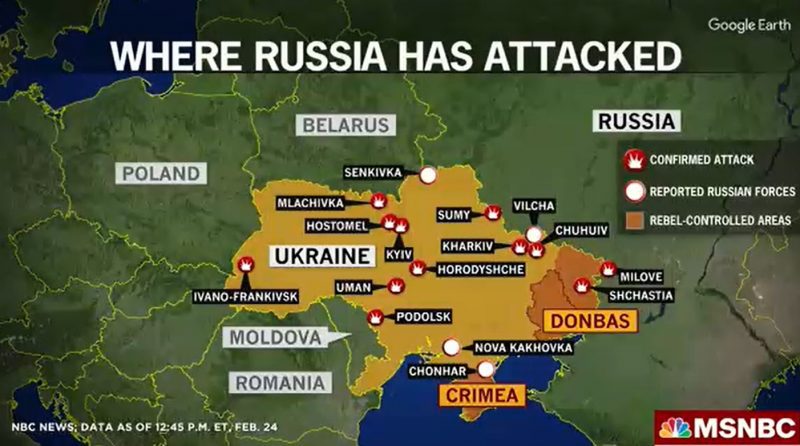 The Russian military has launched an all-out assault on Ukraine, bombing targets near big cities. Russia is launching a full invasion by land, sea, and air on Ukraine. In a pre-dawn TV statement, President Vladimir
Putin said Russia has no plans to occupy Ukraine and demanded their military to lay their arms down. He has defied all international pressure and has told the West not to interfere in the conflict. Moments later after that statement, attacks were heard on Ukrainian military targets. In his statement, Putin said, "I decided to conduct a special military operation. Its goal is the protection of people, who during eight years, suffer from abuse and genocide from the Kyiv regime. We urge you to lay down arms immediately and go home. Whoever would try to stop us and further create threats to our country, to our people, should know that Russia's response will be immediate and lead you to such consequences that you have never faced in your history".
Even though Putin claimed that he has no plans to occupy Ukraine, several areas throughout the country were targeted by military airstrikes, along with landing troops on the country's south coast. Currently, at least 40 people have been killed and dozens wounded by Russian attacks.
The Ukrainian President Volodymyr Zelenskyy declares martial law and has asked all citizens to not panic and to fight the aggressors. Right after Putin's announcement of a "special military operation", explosions were reported at around dawn throughout Ukraine, including in the Donetsk and Luhansk region.
The Russian military has stated that it destroyed 74 Ukrainian military facilities, which includes 11 air bases. On the other hand, the Ukrainian military has shot down six Russian planes. Right now, reports suggest about 50 Russian forces have been killed.
Currently, the G7 leaders have strongly condemned Russia's move and have promised to hit Moscow with severe sanctions and coordinated economic sanctions. The G7 leaders said in a joint statement, "This crisis is a serious threat to the rules-based international order, with ramifications well beyond Europe." The G7 comprises the following countries: Canada, France, Germany, Italy, Japan, the US, and the UK.
Ukrainian border officials have claimed that the Russian military was trying to go into the Kyiv region and the Zhytomyr region on the Belarusian border. Ukraine's border guard agency has alleged that Belarus is supporting Russian troops, with troops entering from there. After the operation began, Putin spoke to the Belarusian President Alexander Lukashenko, who has denied that they are providing any military support to Russia. However, he has said that troops could get involved in Russia's operation if required. There is security camera footage released by border guards, showing lines of Russian military trucks entering Ukraine from Cremia.
Ukraine's military chief, Valerii Zaluzhnyi, has said that the Ukrainian army is fighting the Russian army near the Hostomel airbase, just seven kilometers northwest of Kyiv. Fighting is also ongoing near Chaplynka, Henichesk, and Skadovsk. According to Moldovian websites, dozens of cars are lined up on the Ukraine-Moldova border, with more people on foot at the Polish, Romania, and Slovakia borders.
This is the largest military action in Europe, since World War II. For weeks, Russia assembled over 150,000 troops along the Ukrainian border and repeatedly denied that it was planning an invasion. Putin claims that the aim of this invasion is to demilitarize Ukraine, one of Putin's demands. Another one of his demands was to stop NATO's expansion into Eastern Europe. Both these demands were rejected by Ukraine and the West.
Right now, Russian police have detained anti-war protests, detaining over 650 people held in cities throughout the country. Demonstrations have been held in 40 different locations, including in Moscow.
In other developments, all diplomatic relations have been broken, with Russia evacuating its embassy in Kyiv, and Ukraine calling back its ambassador in Russia. Russians have targeted cities, which include, Kyiv, Kharkiv, Odesa, Mariupol, and Kramatorsk.