Don Jr. wrote "We have multiple paths We control them all"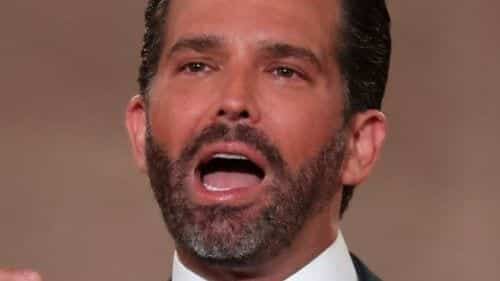 Discovery of the strategy text exchange between Trump Jr. and Meadows is a bombshell as is very bad news for the Trump Family. There have been many discoveries of texts and messages by the House Jan 6th panel, which point directly to overturning the
elections and some of those texts were immediate after the election results were announced. The craze of greed and power is showing right through all of these messages. Don Jr. had "multiple paths" and shows he was directly linked to the planned coup on Jan. 6th.
Two days after the election results were announced, Don Jr. texted the ex- Chief of Staff Mark Meadows regarding strategies to overturn the elections. He reportedly wrote, "This is what we need to do please read it and please get it to everyone that needs to see it because I'm not sure we're doing it. It's very simple … We have multiple paths. We control them all." In his strategies-exchange to Meadows, Trump Jr. laid out plans, which were eventually pursued, by spreading lies about the election fraud and applying pressure on state officials and federals.
CNN says the message was texted on 5th November 2020, and then two months later, we saw the catastrophe, where Trump supporters were told by Trump to "fight like hell" in his cause. In addition, CNN said that Trump Jr. suggested a plan B, in case these methods didn't work- that is, Congress lawmakers could dismiss the electoral results and vote to keep Trump in power. And after the Capitol riot, 147 Republicans in Congress voted against the results in key states.
Alan Futerfas, Trump Jr. 's lawyer told CNN, "After the election, Don received numerous messages from supporters and others. Given the date, this message likely originated from someone else and was forwarded."
This week the House panel interviewed Trump Jr. sister, Ivanka Trump and her husband Jared Kushner, both ex- White House advisers. These were the closest testimonies the panel has come to regarding Trump.
Till now, around 800 people have been charged over the attack, however, only Steve Bannon, one of Trump's strategists, received a criminal charge. Bannon is one of those who has refused the subpoena from the panel and has pleaded not guilty to criminal contempt of Congress. This week itself, the panel voted for the same charge against Dan Scavino, Trump's social media aide, and Peter Navarro, Trump's trade adviser. Both of these people played critical roles, where one willingly disseminated about electoral frauds and the other laid out the scheme to overturn the election. A contempt charge was also considered for Meadows, however, there has been no charge whatsoever.
Last month, Judge David Carter ruled that Trump was involved in multiple felonies. He said, "Based on the evidence the court finds that it is more likely than not that President Trump and Dr [John] Eastman [a law professor who advised Trump] dishonestly conspired to obstruct the joint session of Congress on January 6 2021."
Laurence Tribe, a Harvard law professor, responded to the news of the text saying that it is a "Smoking rifle". Glenn Kirschner, currently an analyst for NBC and a former federal prosecutor said, "The 'subject' line of Don Jr's email might as well have been, 'I'm a member of my father's criminal conspiracy to overturn the election.' How long do we have to endure this open, treasonous criminality by Trump and company before someone gets indicted?"
And his statement couldn't be more true. All the plans, schemes, messages have been detailed and laid out clearly in front of the panel and the public. And all of these directly lead to Trump and his team who deliberately worked towards overturning the elections, by building up the plan to the point of the Capitol attack. A bipartisan Senate report wrote that seven deaths were connected to the riot. And not only that, but around 114 police officers were injured during the attack and four committed suicide after the riot. So where is the justice? And how long before the criminals are held accountable for their actions?