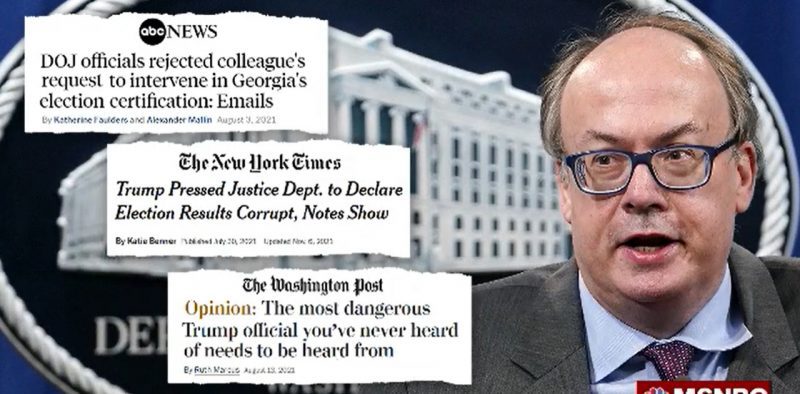 The 5th public hearing that took place on Thursday revealed new details as to how Donald Trump pressured the Justice Department to overturn the 2020 elections.
The hearing began hours after a raid took place at Jeffrey Clark's home, who is considered to be one of the key DOJ persons involved in Trump's plans. (continued after video)
The testimonials from the Republicans are ever increasing and in this hearing, three of Trump's top DOJ officials- Acting Attorney General Jeffrey Rosen, Acting Deputy Attorney General Richard Donoghue, and Assistant Attorney General Steven Engel all testified to how Trump wanted the department to help him in his schemes. And when that plan failed, Trump schemed to place a loyalist in the department who would carry out the plan.
So here are the key takeaways from the hearing:
The DOJ denied all requests from Trump. In fact, Trump wanted the DOJ to declare that the election was corrupt. Trump's ex Chief of Staff, Mark Meadows, asked the department to investigate whether there were any Italian military satellites that were controlling the voting machines. Trump pushed the highest levels of government officials to investigate these conspiracy theories as he was just somehow seeking to claim his statement about electoral fraud. At the White House's request, Secretary of Defense, Chris Miller, even contacted a counterpart in Rome to investigate the theory.
When asked by Bennie Thompson how often Trump contacted the department for electoral fraud, Rosen said, "December 23rd and January 3rd, the President either called me or met with me virtually everyday with one or two exceptions like, Christmas Day. There were different things raised at different parts or different intervals with the common theme being is dissatisfaction about what the Justice Department had done to investigate election fraud." He added, "I will say the Justice Department declined all of those requests that I was referencing, because we did not think that they were appropriate."
He even asked for a special counsel for an election fraud and requested Rosen several times to meet Giuliani. And when Rosen denied Trump's request to change the outcome of the election, Trump's response, according to the testimony by Donoghue, was "He responded very quickly and said essentially, that's not what I am asking you to do. What I am just asking you to do is to just say it was corrupt and leave the rest to me and the Republican Congressman." Trump also told the senior officials at the Department of Homeland Security to seize the voting machines from state governments. He said in a White House meeting in late December 2020, "Why don't you guys just seize machines?", according to Donoghue's testimony.
Trump even went further and challenged the DOJ leadership. He threatened Donaghue and Rosen when refused to succumb to his demands. When asked, Donaghue said, "He said, people tell me I should just get rid of both of you. I should just remove you and make a change in the leadership, put Jeff Clark in, maybe something will finally get done."
Cassidy Hutchinson, a former aide of Meadows, said in a deposition clip, "He wanted Mr. Clark-Mr. Jeff Clark to take over the Department of Justice."
There was a meeting on January 3rd in the Oval Office, which included Trump, Rosen and Jeffrey Clark and in that meeting Trump asked what would happen if Rosen was replaced by Clark. In his testimony, Donoghue said, "Mr. President, I am going to resign immediately. I am not working one minute for this guy, who I had just declared was completely incompetent." Donoghue even added that hundreds of DOJ officials would resign if Clark was installed at the helm of the department.
Details were also revealed as to how days after the Jan 6 attack, several Republican members of Congress for blanket pardon, including Perry and Reps. Mo Brooks of Alabama and Matt Gaetz of Florida. John Mcentee, former Trump's White House aide said, "I know he had hinted at a blanket pardon for the January 6th thing for anybody, but I think he had for all the staff and everyone involved, not with January 6th but just before he left office."
According to the committee, an email Brooks sent to the White House in January 2021 stated, "President Trump asked me to send you this letter. This letter is also pursuant to a request from Matt Gaetz. As such, I recommend that president give general (all purpose) pardons to the following groups of people."
The committee announced a surprise hearing, which is due to take place on Tuesday and there is absolutely no clarity as to what evidence will be revealed and who is scheduled to testify. Previously, the committee planned to hold seven initial hearings, however, with new evidence in hand, Thompson said that the final hearings will come in July. Vice Chair, Liz Cheney, R-Wyo said that the final two hearings will mainly focus on how Trump manipulated his followers towards the capital and then failed to take quick action to calm the situation when the attack began.