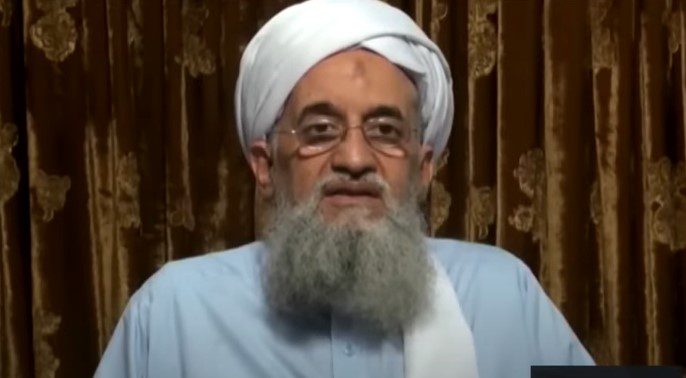 President Biden said Monday night that Ayman al-Zawahiri, the commander of al-Qaeda and one of the most wanted terrorists in the world, had been assassinated. Together with Osama bin Laden, he was responsible for planning the attacks of September 11, 2001.
According to US officials, Zawahiri was killed in a CIA drone attack in Kabul over the weekend.
Biden administration officials promised to keep the capacity to launch "over-the-horizon" assaults from overseas on terrorist elements operating in Afghanistan after American soldiers left Afghanistan last August. Since the pullout, the attack against Zawahiri is the first known counterterrorism operation there.
Biden declared on live television that he had approved a strike to kill Zawahiri a few days prior. He was speaking from a balcony of the White House. Biden declared, "Justice has been served, and this terrorist is no more."
An official who briefed reporters on the operation said that the attack happened about 17:48 Eastern time on Saturday. The official said that two Hellfire missiles were launched by a drone at Zawahiri. He was taken out as he went onto the balcony of a safe house in Kabul, where he had been residing with family members.
In Kabul's Shirpur area, a powerful explosion was audible. The district, which was once vacant land controlled by the Afghan Defense Ministry, has recently been transformed into a posh neighborhood with enormous homes, where affluent people and prominent Afghan officials have residences.
Shirpur is separated from surrounding neighborhoods and is tightly guarded and off-limits to vehicles. The home that Zawahiri and his family are allegedly living in appears to be in a safe area, hidden behind a sizable bank and many secured alleyways surrounded by government complexes.
The person said that the intelligence community had followed Zawahiri to the safe home and spent months verifying his identification and creating a "pattern of life" following his travels and conduct. The official added that intelligence agencies have determined that Zawahiri was the only person killed in the strike.
Zawahiri was thought to be residing in the home, which he never left, according to intelligence provided.
The official referred to Zawahiri's presence in Kabul as a violation of the Doha Agreement, which was signed between the United States and the Taliban in 2020, and claimed that senior members of the Haqqani Taliban faction were also aware that Zawahiri was residing in the house and took actions after the strike to conceal his presence.
The Taliban promised not to permit terrorist organizations with global objectives to operate on their territory and to end all ties with those organizations as part of the deal that led to the US departure from Afghanistan. Al-Qaeda seems to still have a close connection with the Taliban regime, despite the Islamic State's expansion within Afghanistan and its regular strikes on the Taliban and civilian targets.
The primary Taliban spokesperson, Zabihullah Mujahid, confirmed the drone attack early on Tuesday, claiming that it was "taken out by US unmanned planes" and that it "hit a civilian residence in the Shirpur region of Kabul."
On Tuesday morning in Shirpur, many residents were perplexed about the origin of the strike, which Taliban authorities first had referred to be a rocket attack that had not resulted in any injuries or fatalities.
A guy called Abdul Wali, who was exchanging money at a curbside stall, stated, "I heard Joe Biden did it." This implies that America still has ownership of Afghanistan. They are free to act as they like. They are still in command if they can carry out a drone strike in the city.
According to many of the investigators who spent decades pursuing al-leadership, Qaeda's Zawahiri played a significant role in transforming al-Qaeda into a more dangerous and ambitious terrorism organization. Zawahiri's face was well-known to millions of Americans thanks to his videotaped tirades against the United States. Analysts argued that by combining his Egyptian-focused organization with bin Laden's, the outfit evolved into a far more dangerous worldwide terrorism operation. Zawahiri was charged with the 1998 bombings of the American embassies in Kenya and Tanzania, which showed the rising danger posed by al-Qaeda.
After the 9/11 attacks, Zawahiri and bin Laden both managed to elude American troops in Afghanistan. Zawahiri's whereabouts were unknown for a long time. In 2011, American soldiers raided Pakistan and killed Bin Laden.
Zawahiri took over as al-symbolic Qaeda's leader after bin Laden was killed, but he was a man on the run in control of a shattered organization. Zawahiri attempted to lead dispersed terrorist organizations without the support of bin Laden, but these organizations frequently disobeyed his orders and disregarded his counsel. He was particularly eclipsed by the establishment of the Islamic State and its violent rule over sections of Syria and Iraq for many years.
Zawahiri was likely the most noticeable reminder of al-dreadful Qaeda's legacy, while the majority of the organization's founding leadership had been murdered or arrested.