Since Roe v. Wade was reversed by the SCOTUS, Kansas is the first state to put the question of abortion rights to a referendum.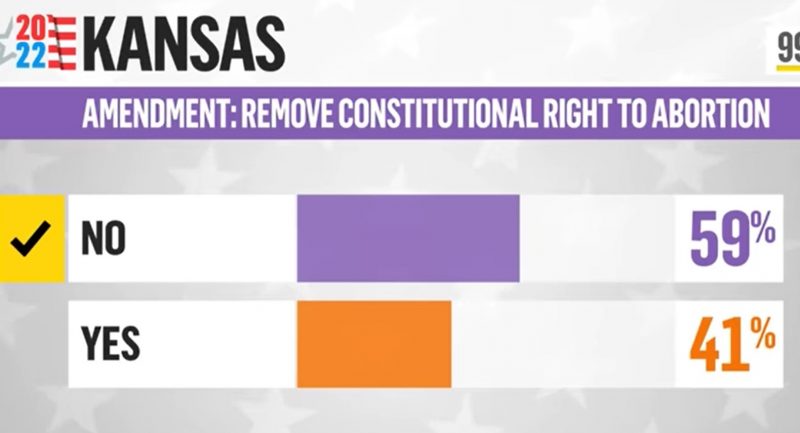 Tuesday night, Kansans chose to keep abortion protected in the state constitution, securing a major victory for abortion rights in the US.
The decision is considered as a setback for the anti-abortion movement and a tremendous victory for pro-abortion activists across the country who will use the outcome as a barometer of public opinion.
Kansas is the first US state to put the issue of abortion rights to a vote following the US supreme court's decision to eliminate constitutional safeguards for abortion. Kansas is a fiercely conservative and firmly Republican state.
As one of the few states in the area where the practice is still legal, the state will continue to be a safe haven for abortion in the Midwest. Since June, other states have taken steps to largely outlaw abortion.
Joe Biden made a statement praising the outcome. The majority of Americans think that women should have access to abortion and the freedom to choose their own healthcare providers, the US president said. "This vote makes plain what we know," he said.
As the results came in, Democratic state senator from Kansas Dinah Sikes sobbed and turned to her friends and colleagues to show them the goosebumps on her arm.
The democratic state senator from Kansas Dinah Sikes acknowledged thinking the vote would be tight but said, "It's astounding that women's opinions were heard and we care about women's health. But in many rural regions, she added, "we were close, and it really made the difference – I'm just so glad."
With the majority of votes counted, the "No" campaign, which supported safeguarding abortion rights, had a commanding 62 percent of the vote. According to campaign finance reports, the Catholic church lost out on millions of dollars because it spent more than $3 million seeking to end abortion rights in Kansas.
On Tuesday, a referendum that was pushed by the Kansas Republican legislature and accused for being confusing, riddled with disinformation, and using voter suppression techniques still had a record turnout among Kansans.
One of the main proponents of a "yes" vote, Kansans for Life, told churchgoers on July 27 that eliminating Kansas' abortion protections would stop late-term abortions, abortions performed without parental consent and taxpayer funding of abortions. None of these things are legal in Kansas.
In a state where anti-abortion militants assassinated abortionist George Tiller in 2009, it was a heated and hotly contested campaign that saw churches vandalized and yard signs stolen.
But on Tuesday evening in Kansas City, scenes of celebration broke out during a watch party for the successful No campaign.
One voter said, "I don't want the government to control my body. She said, "I'm so happy.
Since the beginning, we were aware that the odds were against us, but we persisted anyway, and the results speak for themselves, she said.
"We made hundreds of thousands of phone calls and knocked on tens of thousands of homes… Millions of dollars worth of false information was combated," she claimed. Extreme restrictions on abortion in our state will not be tolerated.
We showed Kansas' heritage as a free state, she remarked. "It will be fascinating to monitor this and see that this is not a political issue for other states to see. All political parties, including Republicans, independents, and ardent libertarians, came out to declare: "No, we do not want the government to get involved in what we do with our bodies."