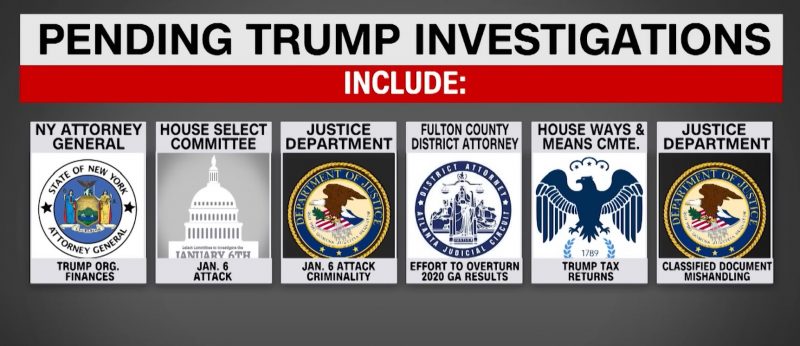 New York's attorney general has filed a civil fraud complaint against Donald Trump and three of his children with ties to the family real estate firm, alleging that Trump inflated his net worth by billions to enrich himself and receive favorable loans.
When Letitia James announced the lawsuit in New York on Wednesday, she also said referrals had been made to federal prosecutors and the IRS, a move that is sure to enrage the former US president and increase consternation among his inner circle about the severity of his legal predicament.
The three-year New York probe began while Trump was still president and included depositions of Trump, Donald Trump Jr., Ivanka Trump, and Eric Trump.
Suits goal is to prevent the Trump Organization from acquiring any commercial real estate or receiving loans from New York-based organizations for a period of five years and to stop all four Trumps from working as executives in New York.
James said, "The case shows that Donald Trump falsely inflated his net worth by billions of dollars in order to unfairly enrich himself and to scam the system, so cheating all of us. The other accused assisted him in this endeavor.
James said her agency had forwarded the case to the southern district of New York and the IRS after discovering evidence of federal criminal crimes, including as false representations to financial institutions and bank fraud.
"The amount of highly inflated asset valuations is astonishing," the complaint claims, "affecting most if not all of the real estate assets in any given year."
In addition to demanding compensation of at least $250 million, the lawsuit also wants to prevent Allen Weisselberg and Jeffrey McConney, CFO and Comptroller of the Trump Organization, respectively, from holding executive positions at any New York-based business.
Weisselberg, now 75 years old, has pled guilty to tax fraud in a separate criminal inquiry in New York.
Noting that both Trump and Weisselberg refused to answer questions during their deposition on the grounds that they were protected from self-incrimination under the Fifth Amendment, James remarked, "For too long, powerful, wealthy people in this country have operated as if the rules do not apply to them."
If you're looking for an extreme case, Donald Trump is right up there. Trump may have felt he could get away with stealing, but he won't be able to do so any longer.
James' referral to federal prosecutors in New York's southern district places the former president and his three adult children in even greater legal danger, despite the fact that the New York action is not a criminal prosecution.
Trump has often hinted at the possibility of a second presidential candidacy in 2024. But he is threatened by the law, with probable indictment for his preservation of secret data and various investigations into his attempts to reverse the 2020 election.
Since the beginning of the New York inquiry, the former president and his legal team have taken the stance that the probe is politically motivated and that the Trump Organization did not engage in any criminal activity.
James, however, detailed a significant history of misconduct in his 214-page lawsuit, including falsely inflating the value of 23 properties, including the Mar-a-Lago resort in Florida, Trump Tower in New York, and the former Trump International hotel in Washington, DC.
James said Trump and his company committed fraud by over 200 instances of overvalued assets in financial statements between 2011 and 2021. She also disclosed fraud schemes she claimed Trump and his company employed.
According to the complaint, Lago's valuation was as high as $739 million when it should have been closer to $75 million.
And according to James, the Trumps "received a series of bank mandated evaluations for the commercial property at 40 Wall Street in New York City that put the worth of the property at $200m as of August 2010 and $220m as of November 2012.
More than double the value determined by the specialists, Mr. Trump valued 40 Wall Street in his 2011 financial statement at $524m, which grew to $530m over the next two years.
"Even more outrageous, the appraiser who evaluated the building at slightly over $200 million was used as the source of the $500 million-plus appraisal."
According to James, "Mr. Trump stated that his apartment spans more than 30,000 sq ft, which was the foundation for pricing the flat," when asked about Trump Tower on Fifth Avenue in Manhattan. It was no secret to Mr. Trump that the flat was less than 11,000 square feet.
It was estimated that the apartment was worth $327 million in 2015 and 2016 based on the exaggerated square footage. There has never been a sale of an apartment in New York City for anything near that much. Intentionally and fraudulently double the apartment's size for appraisal purposes. It wasn't an honest blunder."
Trump has long claimed that James's criticism of him has political overtones. Bloomberg News claimed that "members of Trump's inner circle" viewed the litigation as "a fundraising opportunity for James, a Democrat facing re-election in November," before James made his declaration.
Additionally, Trump has suggested that the African-American attorney general is racist.
James summed up the situation on Wednesday morning: "I want to be clear. Commercial or "white collar" theft of money or property always has consequences.
She then referred back to her earlier comment on Trump's most famous ghosted book, saying, "Claiming you have money that you do not have does not equal to the art of the deal." The practice of stealing is an art form.
No one group in this country or this state may have different standards than another. "There is no one who is immune to the rule of law."