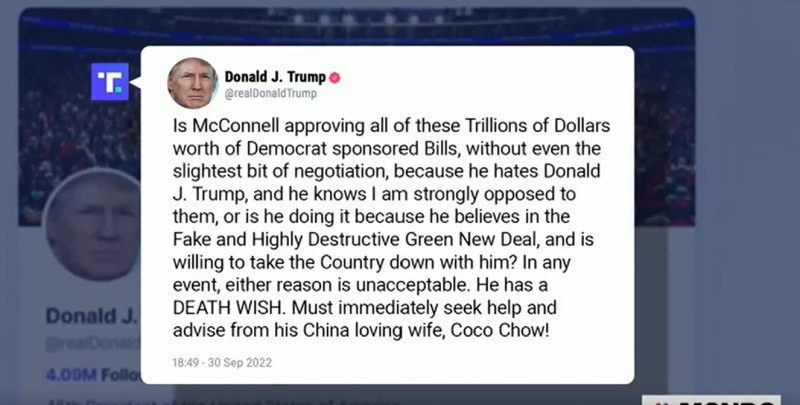 Only members of Trump's cult-like MAGA movement are safe in the Republican Party of Donald Trump and Rep. Marjorie Taylor Greene.
The Democratic Party is vilified and branded as the enemy and the killers. Even Republicans who don't subscribe to the MAGA mantra (any lost election was stolen, Trump is always correct) have a morbid fascination with the end of the world.
Using Truth Social on Friday night, Trump, the current frontrunner for the 2024 GOP presidential nomination should he decide to run, blasted Senate Republican leader Mitch McConnell for voting for legislation backed by Democrats, saying of McConnell, "He has a DEATH WISH."
Trump threatens McConnell, hurls racist nickname at his wife
After that, Trump used a racist slur about Elaine Chao, McConnell's wife and a member of his Cabinet during his presidency: "Must immediately get aid and advise from his China loving wife, Coco Chow!"
There is no way to interpret Trump's "DEATH WISH" statement as anything other than a threat in light of the events of January 6th.
The former president exposes his real colors once again by spewing racial slurs at the wife of a powerful member of the political party he purports to represent. And for the ten millionth time, Trump proves he isn't concerned with things like spelling correctly by calling it "advise" instead.
Republicans line up to kiss Trump's ass
Even though this is obviously hazardous language, many Republicans kept mute over the weekend. The Republican candidates for governor, attorney general, and secretary of state in Michigan—Tudor Dixon, Matthew DePerno, and Kristina Karamo—all attended Trump's event on Saturday in Michigan.
Greene, of Georgia, was also present and, perhaps trying to out-Trump Trump with her own harsh speech, declared to the crowd, "I'm not going to mince words with you all." Democrats have begun murdering Republicans because they want them dead.
That's really crazy. And it's sickeningly dangerous, much like Trump's statements against McConnell. What's more, it's not only wrong, but also untrue.
No one disloyal to Trump is safe in Trump's Republican Party
When a Republican is accused of having a "DEATH WISH" because he did his job and voted for legislation, he becomes a political target. Any person who happens to be a Democrat can use the claim that Democrats "have already begun the killings" to justify violence against them. At a time when anti-Asian hate crimes are on the rise, it sends the wrong message to the public to openly use a racial slur against a woman of Asian descent.
GOP members have been silent in the face of Trump's incitement to violence
Is there going to be any kind of genuine reaction from moderate Republican politicians? Nope. After being repeatedly questioned by CNN on Trump's comments, Republican Sen. Rick Scott finally said, "I don't condone violence," before adding, "I hope no one is racist."
Really, that's a lot of guts. Republican leaders remain silent, even in the face of mounting evidence that Trump and his MAGA thugs are primarily devoted to themselves, rather than to the party.
The large number of citizens and politicians who support Trump despite his low approval ratings do not exhibit party behavior. A cult exhibits these characteristics: allegiance to a single leader, intolerance of dissent, threats of violence, and the labeling of those who differ as existential dangers.
The MAGA crowd believes you are not a Democrat and instead belong to a party that is out to harm Republican, that democrats are their enemy, and violence is acceptable.
All Americans must unite against this dangerous rhetoric
How is it that those of us who recognize how absurdly wrong this is can't unite in our outrage? Why do Republicans keep voting for a dangerous man who would turn his savage dogs on them in a heartbeat?
"Just ignore them" has been a familiar mantra as Trump and his sad imitators like Greene have committed outrage after outrage, plunging to new depths with each one. You shouldn't give them the focus they're seeking. That could work against a faceless internet troll, but Trump is the most likely Republican presidential candidate for 2024 and Greene is a major Republican who is frequently hailed by Trump and held in high esteem by the president's most devoted supporters. Despite best efforts, she will never remain anonymous.
These MAGA nutjobs are real, and they will only get stronger if we don't call them out for being the buffoons that they are. Potentially life-threatening consequences await you if you abandon the Republican Party, as they made abundantly apparent over the course of a single weekend. If you're a Democrat, they'll come after you because you've made it clear you want to target the party.
Trump leads a deadly fascist cult that is rapidly becoming worse
If you dare to challenge them, they will come for you. Due to the fact that they do not constitute a political movement.
And everyone, including Republicans who still care about things like common decency, has to condemn them and voters must overwhelmingly reject them in this election and the ones to come.