Yet another Trump candidate goes down as a loser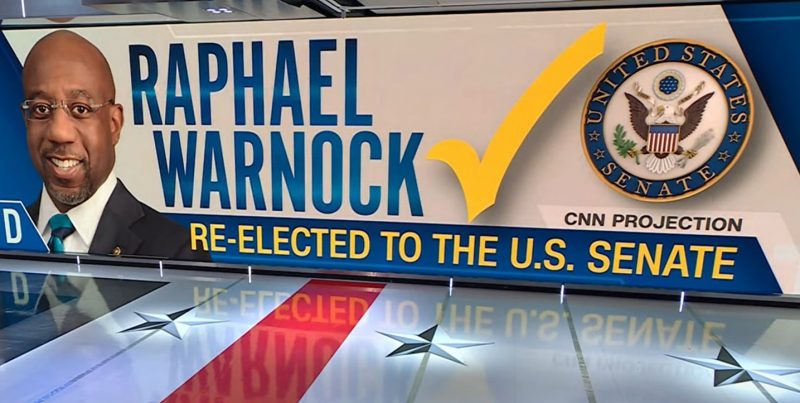 In the Georgia runoff election, U.S. Senator Raphael Warnock defeated Republican opponent Herschel Walker, strengthening Democrats' Senate majority and handing the GOP one more painful defeat to end a disastrous midterm election season.
The growing argument in Republican circles that Trump cost the party dearly in the midterm elections by endorsing unviable candidates won't be quieted by Walker's defeat.
Republicans initially held out hope that they could take over both houses of Congress because they only needed to gain one member to break the 50-50 Senate tie.
Instead, they observed the defeats of Mehmet Oz in Pennsylvania, Blake Masters in Arizona, and Don Bolduc in New Hampshire, all of whom had received Trump's endorsement. They were all supposedly winnable contests.
Democrats will now control 51 seats in the new Senate thanks to Warnock's victory. Despite being far narrower than the "red wave" some party members had hoped for, Republicans nonetheless secured a majority in the House of Representatives.
One of Trump's first supporters was Walker. Questions about the former Georgia college football star's personal life, suitability for office, and where he actually dwells have dogged his campaign from the start.
Trump held two rallies in Georgia for Walker, but he did not travel there for the runoff; instead, he merely called in to encourage voters on Monday night. Instead, he spent the majority of Monday putting out press releases calling for the 2020 election to be annulled in light of his fictitious allegations of election fraud.
Other prominent Republicans stayed away from Walker, including Florida Governor Ron DeSantis, who is widely anticipated to run against Trump in the next presidential election.
Trump came under criticism from numerous influential contributors and possible 2024 candidates who said that he was alienating independent and moderate Republican voters at a conference of Republican fundraisers in Las Vegas last month. The defeat of Walker is probably going to amplify this criticism and further damage Trump's standing inside the party.
Despite the fact that Trump never went to Georgia to support Walker during the last few weeks of the election, he made headlines in other ways that were likely to annoy moderate voters.
A week after the midterm elections on November 8, he declared his new 2024 presidential candidacy. The announcement that the Justice Department was hiring a special counsel to further investigate Trump's activities involving his alleged removal of secret materials from the White House and efforts to rig the 2020 election came almost immediately.
Then, Trump was discovered enjoying dinner at his Florida vacation home with the avowed white nationalist Nick Fuentes and rapper Kanye West, who has recently been recorded spreading anti-Semitic statements. Trump denied that he was familiar with Fuentes.
Trump has recently revived his calls for the 2020 election to be annulled in online comments where he seemed to be advocating the overthrow of the U.S. Constitution.
Walker had problems from the beginning as a candidate. His turbulent personal life, which includes claims of domestic abuse and urging ex-girlfriends to seek abortions, provided Democratic attack advertisements with plenty of material. Walker refuted the accusations of abortion.
He rarely left familiar territory and mainly avoided media attention, clearly overburdened by the rigors of a Senate campaign. Walker appeared unable to appeal to voters outside the rural base in a state that had just re-elected Brian Kemp as governor.
That held true even when conservative power players like Senator Ted Cruz, former U.N. ambassador Nikki Haley, and Kemp rallied around him in the final weeks. Mitch McConnell, the top Republican in the Senate, ran a political action group that attempted to help him as well.
Walker publicly pondered if a werewolf could murder a vampire at a rally ahead to the runoff. As voters started to cast their ballots, Warnock used that as fodder for an attack ad.
Alma Hill, a Warnock supporter, expressed her concern that Walker had been successful in forcing a runoff at Tuesday's victory celebration for Warnock.
Hill remarked, "I don't understand why we are still dealing with a werewolf.
Soon after, Warnock was declared the winner.