Watch the highlights below article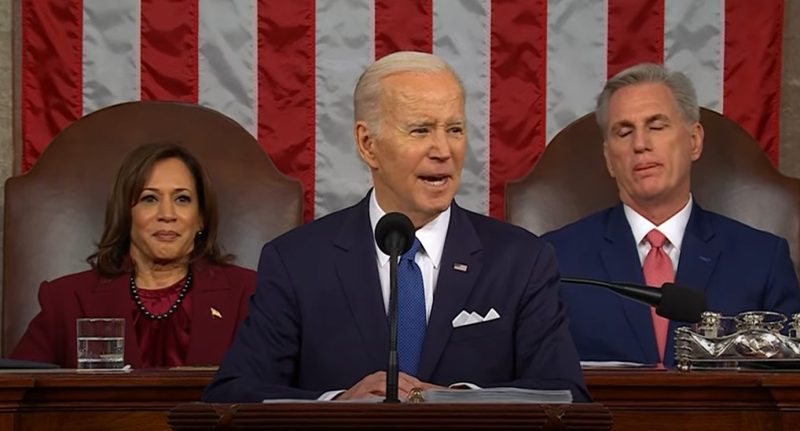 The State of the Union address was Tuesday night and President Joe Biden got the best of the Republicans and backed them into a corner. Watch the highlights below this article.
Biden frequently deviated from the script, fending off Republican members' jeers and, at one point, forcing the party into a position by demanding they vow to defend Medicare and Social Security benefits.
Tuesday night, President Joe Biden came out with plenty of enthusiasm and swept the House floor with the wailing, disorganized Republican Party.
In a speech that preached populism and heavily relied on his renowned talent as the nation's top empathizer, Biden delivered a speech that acknowledged the country's challenges while remaining unflinchingly and upbeat. He frequently deviated from the script, fending off Republican senators' jeers, and eventually cornered the entire party into swearing to defend Medicare and Social Security benefits.
They rushed for him like a herd of lemmings, and he kindly directed them to the edge with a wink and a smile, something not seen at a State of the Union address. Proper decorum and manners seem to be something foriegn to the Republicans.
Joe Biden is signaling a reelection bid. Tuesday's address suggests he's still got it in retail politics, even as he mulls running for reelection and some anxious Democrats seek a younger candidate.
Of course, no one will ever mistake Biden for a persuasive speaker. The Republican politicians were in a pickle, though, as his speech hammered home points that the majority of Americans would applaud.
Biden should use the line "America is SUPER WOKE, tbh" in his State of the Union address.
Republicans should support democracy, right? "Our democracy is unbowed and unbroken," stated Biden. Republicans remained silent.
Bided mentioned a boom in infrastructure development. Republicans remained silent. I'll see you at the groundbreaking, Biden joked.
According to Biden, the jobless rate is at its lowest point in decades. Others remained silent, while some gave faint applause.
People will question your allegiance if you don't support democracy, improved infrastructure, and a low unemployment rate, Biden retorted.
Republican House Speaker Kevin McCarthy, who sat behind Biden, tried and failed to stop multiple instances of immature heckling by Republican members, revealed how weak and idea-less their party has become by refusing to recognize popular successes that benefit people.
McCarthy squirmed throughout the entire speech. Rep. Marjorie Taylor Greene yelled at Biden, "LIAR!" at one point. Republicans started shouting down Biden as the president talked about a man who lost his child to a fentanyl overdose. This behaviour is just simply embarrassing for our country and the GOP specifically.
Republicans were urged to join Biden in a "massive surge" to stop the production of fentanyl and give border officers "additional drug detecting machines to scan cargo," as his response.
That naturally silenced the Republicans because they don't want to think about a solution; instead, they want something to yell about.
The results of the midterm elections made it abundantly evident that Americans do not share Republicans' performative anger. However, on Tuesday night, GOP lawmakers once again had nothing but theatrical indignation as the older man they frequently refer to as "senile" was fervently espousing hope and ideas that might make the country a better place.
McCarthy was trying to silence the loudmouths in his caucus who begged to be put on Fox News, and you could see it in his face. He appeared dejected.
You don't need to adore or even like Biden to understand why he was upbeat on Tuesday night. The Pennsylvanian, 80 years old from Scranton was up against people who were constantly hitting themselves in the face.
Arkansas Governor Sarah Huckabee Sanders stated this in the Republican response to Vice President Joe Biden's speech: "The dividing line in America is no longer between right and left. You can either be normal or crazy.
She is correct, but she is not smart enough to know which side the American people believe to be crazy. She can refer to the mid-term results for clarification.