Tonight is the STATE OF THE UNION, a big test for Joe Biden heading into the 2024 election cycle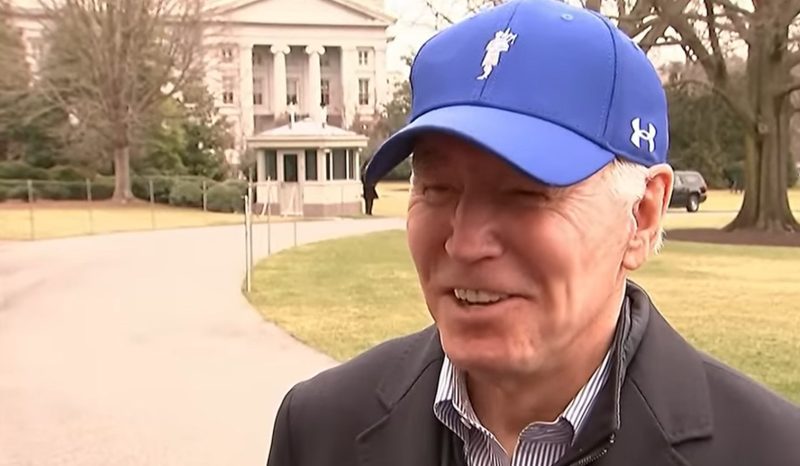 The State of the Union address by President Joe Biden, his first in front of a divided Congress, will provide the best look yet at his case for a second term, making Tuesday's speech something of a trial run of his message for the 2024 election as he gets closer to announcing his candidature.
Biden aims to give the American people a lively and upbeat account of his first two years in office, reminding them of his accomplishments and proving to his biggest television audience of the year that he has the stamina to continue serving the nation until he is 86.
He will undoubtedly carry out initiatives to reduce inflation, upgrade the country's infrastructure, and lead the nation through the Covid-19 pandemic. And as part of a wider portion about competing with Beijing that advisers have been editing and perfecting in the days leading up to the speech, he plans to discuss this weekend's shoot down of a suspected Chinese spy balloon.
The speech is the result of writing that has been ongoing since late last year and has undergone constant revisions to represent the urgent nature of the job and the pressing challenges that are on everyone's minds.
That includes a renewed drive for the urgency of long-stalled police reform in response to the graphic nature of footage showing Tyre Nichols being beaten to death by police in Memphis. Biden's opinions were shaped by a two-hour Oval Office meeting last week with influential Congressional Black Caucus members, which resulted in fresh changes.
A ban on assault weapons has also gained increasing support as a result of the recent mass shootings. Additionally, fresh evidence of an economy that continues to confound economists and critics alike has influenced Biden's message on the economy.
However, the fundamental themes of Biden's yearly speech will remain much the same as they were outlined by his top advisors Mike Donilon and Bruce Reed, along with wordsmith Vinay Reddy, in the early days of January, according to officials.
According to Biden, the successes he will highlight on Tuesday are long-lasting and diverse, and his message regarding the economy and the US's place in the world is both compelling and motivating for his term.
After spending two days cooped up at Camp David with his senior advisers preparing his remarks, Biden said on Monday, "I want to talk to the American people and let them know the status of events. What's happening, what I'm looking forward to working on moving forward, and what we've accomplished. merely conversing with the American populace
The prime-time speech will serve as Biden's launchpad for the upcoming weeks, which will involve travel to key electoral states to highlight his successes and, as advisers recognize, an announcement of his reelection, which is currently all but guaranteed.
When asked what to anticipate from the remarks, one adviser cited Biden's recent run of speeches as a road map for his address to the nation. The advisor asserted that Joe Biden wasn't "new." He is who he is, and he is nothing if not consistent in his consistency.
Or, as stated in a way that seemed both obvious and deliberate by White House press secretary Karine Jean-Pierre: "The speech is going to sound like a Joe Biden State of the Union speech."
The adviser continued, "The only difference between this State of the Union address and the one he gave last year is that now we have two years' worth of evidence to support those convictions.
But Biden hasn't been able to overcome the persistent feeling of American doom that lies beneath the hope. And despite his calls for unity, the speech's straightforward optics will make clear the difficulties ahead.
Republican House Speaker Kevin McCarthy, who has vowed to oppose most of Biden's aspirations, will be seated behind him for the first time. He is the leader of a divided GOP caucus, and its members haven't showed much interest in working with Biden to enact new legislation.
In his speech, Biden will urge Congress to enact or make permanent a number of measures that could aid the economy of the United States, including extending the price cap on insulin, expanding the child tax credit, closing a loophole that prevents some families from accessing affordable healthcare, and passing legislation to outlaw certain "junk fees" on consumers.
In addition, he will reiterate his request for Congress to enact a minimum tax on billionaires and put up a new regulation requiring that all building supplies, including as drywall, wires, and lumber, be produced in the United States when utilised on federally funded projects.
Nevertheless, it is still improbable that significant pieces of legislation will come across Biden's desk very soon without support from the incoming Republican majority.
Some see the House GOP as a helpful foil for Biden as he gears up to run for president against an unnamed Republican challenger. He has painted them as obstructionists who are eager to send the country into a financial crisis in a series of speeches over the past week.
On Tuesday, he will restate his stance and inform Republicans that he will not negotiate to raise the debt ceiling. However, he would indicate that he is open to separate negotiations about cutting the deficit.
However, there has been internal disagreement among Biden's advisors regarding the appropriate level of rebuke for Republicans in the president's State of the Union address. He is a leader who advocated for cooperation with Republicans even during a difficult election year and made a vow of unity.
According to studies, many Americans still do not perceive the accomplishments that Biden is attempting to market. A majority of Americans, 62%, said they do not think Biden has accomplished much during his first two years in office, according to a recent ABC News Wapo poll.
The day before the address, Biden's top economic advisor Brian Deese said, "It's natural that even while personal household conditions, for the majority of people, have improved, the concern – the economic anxiety – is real." The president will specifically address the fact that there is more work to be done while simultaneously highlighting how the accomplishments we have made so far can serve as a roadmap for the future.
Regarding lingering economic concerns brought on in part by the global pandemic and Russia's invasion of Ukraine, Deese claimed that Biden will "meet the American people where they are."
Biden and his advisors are well aware that bragging excessively about acts that the majority of Americans do not yet feel might be harmful. But as he gets close to declaring his candidature for reelection, that record will still be the crux of his case.
According to polls, a lot of Democrats are not thrilled about another Biden run. 58% of Democrats and independents who lean Democratic would like someone other than Biden to be the nominee in 2024.
"I think you could easily re-elect the president if I were still a working political strategist and had the president's record. The issue, however, has never been political. David Axelrod, former adviser to President Obama, described it as actuarial. "His performance is not the point of this. Age is really the factor.
One of the few times this year that many of Biden's television viewers will actually hear and see the president will be during his speech on Tuesday. Even while attendance at State of the Union addresses has slowly declined over the years, it continues to be a president's biggest stage.
It will be crucial for someone who is getting ready to ask voters to keep him in office until he is 86 to appear and sound like someone who can keep doing the job.