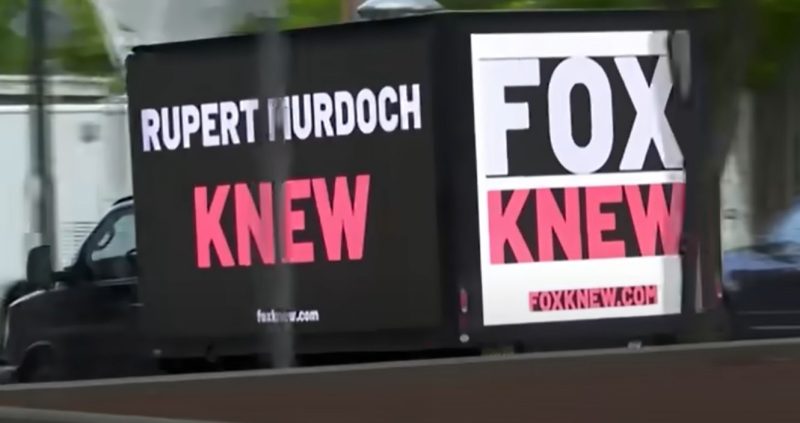 The legal hell for Fox News has just begun. They are being sued by a former employee and another voting technology company following its $787.5 million settlement. Shareholder suits are bound to follow.
In a last-minute agreement on Tuesday, Fox agreed to pay voting equipment provider Dominion US$787.5 million, resolving a controversy over whether the network and its parent company intentionally broadcast false and outrageous claims that Dominion was planning to rig the 2020 election.
Analysts claim that even if the settlement sum is quite expensive, Fox has avoided the more embarrassing spectacle of a trial and a public apology.
However, it will continue to encounter several legal obstacles in the coming months.
In February 2021, Smartmatic, a global provider of electoral technology with its headquarters in London, filed a defamation lawsuit against Fox. The stunning first line of the complaint was, "The Earth is round. The sum of two and two is four. The 2020 election was won by Kamala Harris and Joe Biden.
Smartmatic, like Dominion, is suing Fox for defamation in connection with its coverage of Donald Trump's election fraud, but the company's complaint has so far garnered a tiny fraction of the media attention.
On paper, Smartmatic's lawsuit appears to be the riskier one because it seeks $2.7 billion in damages as opposed to Dominion's $1.6 billion in demand.
The case against Fox News, Fox Business show Maria Bartiromo, former business anchor Lou Dobbs, and former Trump attorney Rudy Giuliani was approved to move forward in March by the New York state supreme court in Manhattan.
According to the company, Fox News broadcast a number of blatant lies in support of the conspiracy theory that Trump's election was stolen, and hosts and guests broadcast 100 false statements, including the claim that Smartmatic participated in the 2020 election counts in six key states when in fact it was only present at the Los Angeles County count.
Fox reported that Smartmatic was established in Venezuela at the command of dishonest autocrats. In fact, it was established in Boca Raton, Florida, by Antonio Mugica and Roger Piate in 2000 in the wake of the "hanging chad" scandal with the intention of employing technology to restore people's faith in election outcomes.
Fox News has questioned Smartmatic's multibillion dollar estimate of its losses, calling it greatly exaggerated.
If Smartmatic wants to prevail in the defamation case at trial, it will have a very high bar to clear. According to New York law, plaintiffs must be able to persuade a jury that the media outlet not only disseminated misleading material, but also did so with "actual malice".
In addition to the damages allegations being absurd, unfounded, and lacking in good financial analysis, Fox News stated that "freedom of the press is foundational to our democracy and must be protected, serving as nothing more than a flagrant attempt to deter our journalists from doing their jobs." Nothing is more newsworthy than hearing about accusations made by the US president and his attorneys.
There is no definite date for the trial.
Abby Grossberg, a former Fox News producer, filed two complaints in March, alleging that the network's attorneys "coached" and "intimidated" her into providing false testimony in the Dominion litigation.
In their own countersuit, Fox News requested a restraining order to stop Grossberg from disclosing her discussions with network attorneys.
The network allegedly tried to blame her and Maria Bartiromo for Fox News's airing of voting conspiracies, according to a senior producer and head of booking for Tucker who has also worked for Bartiromo's show. Grossberg claims this attempt was a part of a larger sexism and misogyny culture at Fox News.
Prior to her deposition in the Dominion lawsuit, Grossberg claimed that Fox News' attorneys had coached her in "a coercive and intimidating manner."
A Fox spokesperson at the time declared: "Fox News Media retained an independent outside counsel to promptly investigate the issues presented by Ms. Grossberg, which were made after a scathing performance review. We will forcefully defend Fox against all of her allegations, as her statements regarding the Dominion case are without merit.
Lachlan Murdoch, the CEO of Fox Corp, filed a defamation lawsuit against Crikey, an independent news website in Australia, in August 2022. The assertion was made in reference to a June 2022 article that identified the Murdoch family as a "unindicted co-conspirator" in the attack on the US Capitol.
Private Media, who publishes Crikey, has largely based its defense on information obtained through Dominion's defamation lawsuit.
According to Lachlan Murdoch's Dominion deposition, the defense of Private Media claims that he "closely monitored how Fox News Network handled reporting on the election" and that he was "generally aware of the allegations made by Sidney Powell on the Fox News Network at the time they were being made, which were to the effect that the 2020 US presidential election was fraudulently stolen from Mr. Trump".
The new admission by Rupert Murdoch that Fox News hosts supported Trump's untrue assertions is part of their extended defense.
Sue Chrysanthou SC, Murdoch's attorney, said she will ask to have the contextual truth defense rejected because it was too broad in an earlier hearing.
The defense, according to the barrister, "is not reasonable, it is not debatable, it is a waste of time for everyone, and it serves no legitimate purpose in the litigation."
In an effort to determine if directors and executives properly handled Fox News' coverage of Trump's election-rigging accusations, Fox Corp shareholders are reportedly requesting corporate data, according to a story this week from Reuters. According to Reuters, it might be the start of legal actions to hold directors financially accountable.
According to sources cited by Reuters, investors were requesting internal records to look into the leadership of Fox as its network featured segments on Trump's fraudulent assertions.
Analysts predict that the shareholders may use these documents, along with evidence from other litigation, to make a case against Fox executives for personal liability in defamation actions.