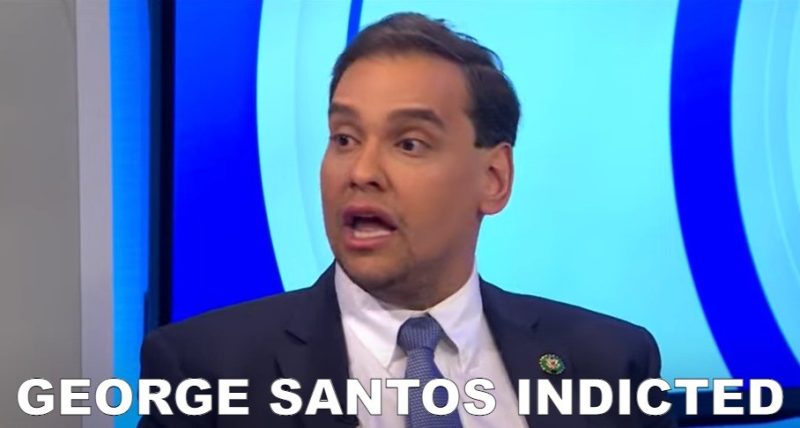 U.S. Representative George Santos, the notorious politician who faced a wave of ridicule and backlash for a series of falsehoods about his background, education, and career, has been slapped with federal criminal charges, according to two anonymous sources familiar with the case.
The charges against Santo remain a mystery as they are currently sealed. Specific details of the case will only be revealed when it is unsealed, which is expected to happen when Santos appears in court, possibly as early as Wednesday.
Santos, seemingly caught off guard by the news, said, "This is news to me. You're the first to call me about this," during a brief phone interview on Tuesday.
The deceitful New York Republican has previously admitted to lying about his Jewish ancestry, Wall Street experience, educational credentials, and volleyball stardom. Questions have also been raised about the origin of his alleged fortune, which he claimed to have amassed rapidly despite recent financial issues, including evictions and unpaid rent totaling thousands of dollars.
Despite mounting calls for his resignation, Santos has insisted on running for reelection, downplaying his tall tales as harmless resume-padding. However, the pressure for him to step down has been relentless, with the media and public in hot pursuit, and even fellow New York Republicans demanding his resignation, accusing him of betraying both voters and his own party.
Previously, both the Nassau County prosecutors and the New York attorney general's office announced they were investigating potential legal violations. Additionally, Santos' campaign spending has come under scrutiny due to questionable payments for travel, lodging, and other expenses.
The Campaign Legal Center contacted the the F.E.C, urging them to investigate Santos. The organization argued that the "avalanche of deceit" surrounding Santos' life story and qualifications should prompt the commission to "probe what seem to be equally audacious lies about how his campaign raised and spent money."
In his FEC filings, Santos initially claimed to have loaned his campaign and related political action committees over $750,000, supposedly sourced from a family business. However, this alleged wealth appears to have materialized out of thin air. In a 2020 financial disclosure statement, Santos reported no assets and an annual income of $55K.
His company, the Devolder Org., was not incorporated until spring 2021. Yet, in September of the same year, Santos filed another financial disclosure form, stating that the Florida-based company had paid him a $750,000 salary for the past two years, along with $1 million to $5 million in dividends. He described the Devolder Organization as a business assisting the wealthy in purchasing luxury items such as yachts and aircraft.
Court records reveal that Santos faced three eviction proceedings in Queens between 2014 & 2017 for unpaid rent. Many Republicans, including those in his district, have heavily criticized Santos for his dishonesty. The Nassau County Republican Committee, which previously supported his candidacy, announced they would not endorse Santos for reelection.
Santos lost his initial run for Congress in 2020 but secured a win in 2022 in a district encompassing Long Island's suburbs and a small part of Queens. A local newspaper, the North Shore Leader, raised concerns about Santos' background before the election, but the extent of his deception only came to light weeks after the election.
The New York Times discovered that Citigroup and Goldman Sachs, companies Santos claimed to have worked for, had no record of his employment. Moreover, Baruch College, where Santos claimed to have earned a degree in finance and economics, reported that he was never a student.
Santos went even further in his web of deceit, fabricating a life story that has also come under scrutiny, including claims that his grandparents "escaped Jewish persecution in Ukraine, settled in Belgium, and once again fled persecution during WWII." During his campaign, he referred to himself as "a proud American Jew."
When confronted about this tale, Santos, a Roman Catholic, admitted he never intended to claim Jewish heritage. It seems even his ancestors would be perplexed by his imaginative storytelling.
The Times also uncovered records in Brazil indicating that Santos, at 19 years old, was the subject of a criminal investigation in 2008 over allegations of using stolen checks to purchase items at a clothing store in Niteroi, a city near Rio de Janeiro. Brazilian authorities have reportedly reopened the case.
As the legal noose tightens around Santos' neck, it's becoming clear that his fabricated tales may have been the least of his concerns. The question remains: how many more lies will be unearthed as his dark house of cards begins to crumble? Only time will tell if this once-promising political career can survive the storm of controversy, or if Santos will be left with nothing more than the shattered remains of his tall tales.