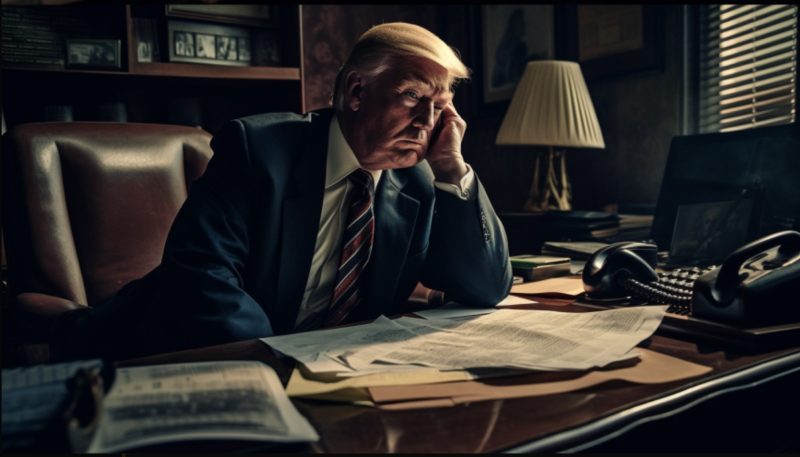 Former President Donald Trump is reported to have been captured on tape discussing a classified Pentagon document about a potential attack on Iran, which he had retained after leaving the White House.
This recording was made during a summer 2021 meeting at Trump's golf club in Bedminster, New Jersey, and is now in the hands of federal prosecutors who are investigating the handling of national security secrets by Trump during his presidency​.
The audio recording, which is about two minutes long, is described as an "important" piece of evidence in a possible case against Trump. On the tape, Trump acknowledges holding onto the classified document, thereby contradicting his claims of having declassified everything. His comments suggest he wanted to share the information but was aware of his limitations to declassify records post-presidency​​.
The meeting in question was attended by two people working on the autobiography of Trump's former chief of staff Mark Meadows and other aides employed by Trump, none of whom had security clearances to access classified information. The recording and document have been the subject of inquiries before a federal grand jury, with investigators even questioning General Mark Milley, a high-ranking national security official from Trump's administration​.
According to sources, the document Trump refers to was described by him as a report typed up by Milley, containing plans for a potential attack on Iran. Trump allegedly suggested that if he could show the document to people, it would undermine what Milley was saying. There were even sounds of paper rustling on the recording, implying that Trump may have been waving the document around​​.
This revelation raises potential legal implications for Trump as he continues his third bid for the White House. The Justice Department has focused on this meeting as part of a criminal investigation into Trump's handling of national security secrets led by Special Counsel Jack Smith. However, no criminal charges have been filed as of yet​.
The recording also showcases prosecutors' interest in Trump's handling of classified documents not only at his Mar-a-Lago resort in Florida but also at his Bedminster property. This is particularly significant given that Trump's team shipped 15 boxes of presidential records and classified documents back to the National Archives and Records Administration in January 2022 after months of negotiation. Additional documents with classified markings were later obtained from Trump during a search at Mar-a-Lago​​.
Throughout this investigation, Trump and his attorneys have offered different, often conflicting, explanations for why Trump did not intentionally retain classified materials in violation of federal law. They initially claimed he had a "standing declassification order," later telling Congress that classified material was inadvertently packed up at the end of the administration. More recently, Trump said materials were "automatically declassified" when he took them. Nonetheless, there's no evidence that Trump followed the legally mandated declassification process​​.
The investigation continues, with prosecutors also asking about other scenarios in which Trump may have shown national security documents, such as maps, to others. This case represents one of several notable legal challenges that continue to hang over Trump in 2023​​.