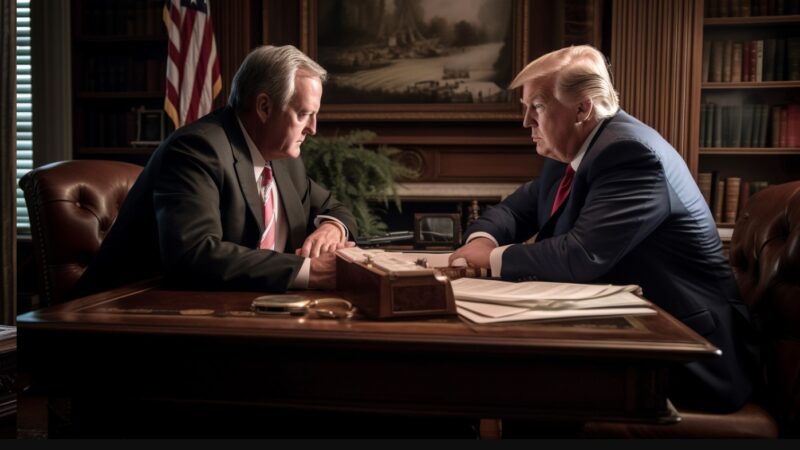 In a major development concerning former President Donald Trump's ongoing legal challenges, Mark Meadows, the former White House Chief of Staff, took the stand to testify on various election-related matters.
The testimony comes as the date for Trump's federal trial on election subversion charges has been officially set for March 4, 2024. Judge Tanya Chutkan, who chose the date after dismissing requests from both sides, aims for a swift trial despite the complexities involved.
The Intricacies of Meadows' Testimony
Meadows' testimony covers a broad range of topics, including post-2020 election phone calls with Rudy Giuliani, his perspective on then-Attorney General William Barr's fraud assessment, and discussions related to security improvements and federal involvement in state elections. The prosecution questioned Meadows' comprehension of the federal role in state election determinations, attempting to assess the legal gravity of his actions during and after the 2020 Presidential Election.
In the indictment case in Fulton County, Georgia, Meadows was scrutinized for his strategy, described by legal experts as risky. Prosecutors argue that Meadows' actions may have violated the Hatch Act and were politically motivated. Nevertheless, the defense maintained that his actions fell within the scope of his official duties, a point which Georgia Secretary of State Brad Raffensperger seemed to affirm when he testified that Meadows' actions were appropriate.
Timeline and Overlapping Trials
The upcoming federal trial precedes the significant political event of Super Tuesday, and poses challenges given Trump's involvement in multiple trials across various states. Trump also faces indictments for hush money, document mishandling, defamation suits, and more. The date for the federal trial, alongside others, presents logistical difficulties for both the prosecution and defense. Over an 11-week span, Trump's Washington trial could potentially overlap with one in Florida.
Legal Strategies and Implications
The defense strategy for Trump, as previewed by his lawyer John F. Lauro, could include immunity claims based on his presidency and allegations of selective prosecution. Trump's defense team also intends to challenge conspiracy counts, suggesting political motives behind the indictment.
Interestingly, Mark Meadows has sought to move his Fulton County case to federal court, with the aim of securing a broader jury pool, a move prosecutors deem futile. Meadows' actions are crucial as they set the precedent for other cases against Trump and his close associates.
The Social Media Impact and Future Directions
The fast-approaching trial dates are seen as essential due to the impact of social media posts, including those by Trump himself, on potential jurors. The Justice Department has expressed concerns about jury bias, particularly from Trump's DC resident polling. A swift trial is deemed necessary to mitigate this risk.
As the date for Trump's federal trial looms closer, the nation's attention is fixed not just on the legal intricacies but also on the broader implications for the American political landscape. With key figures like Mark Meadows testifying and various trials overlapping, these cases may have a profound impact on the future direction of American politics.
The chosen trial date, the testimonies, and the unfolding legal strategies are all part of a complex tapestry that could influence not just the involved individuals but also the state of democracy in the United States.