U.S. Nationals Released in Diplomatic Breakthrough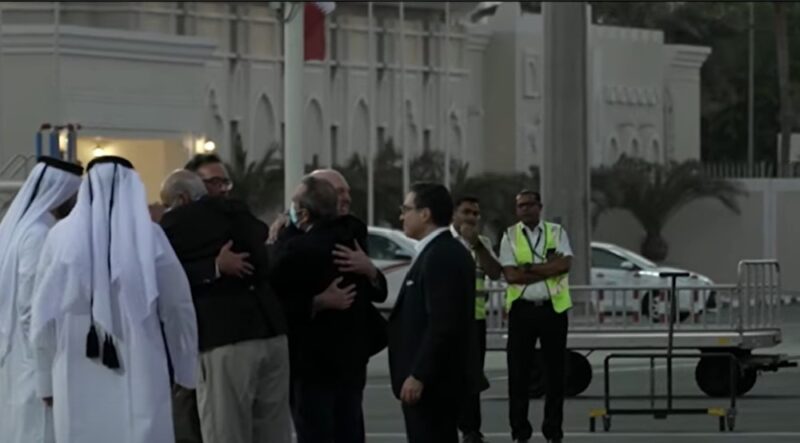 In a major diplomatic achievement, five American citizens, previously imprisoned in Iran, have landed in Doha, Qatar. Their journey to freedom marks the conclusion of an intense, indirect negotiation process between Washington and Tehran. Their eventual destination is the U.S., where they will reunite with their families after years of separation.
Context of the Release
Previously identified as being unjustly detained, the five Americans were liberated as part of a broader agreement. This pact also saw the U.S. releasing $6 billion of frozen Iranian assets. The released individuals were transported aboard a Qatari governmental aircraft from Tehran, which also carried two of their family members and the Qatari ambassador to Tehran.
Among the five, three have been identified as Emad Shargi, Morad Tahbaz, and Siamak Namazi, each incarcerated for more than half a decade. Namazi, in particular, has been in detention since 2015. The other two Americans' identities remain undisclosed.
Siamak Namazi's mother, Effie Namazi, and Morad Tahbaz's spouse, Vida Tahbaz, previously restricted from departing Iran, were also aboard the flight from Tehran to Doha. Following their brief stay in Doha, their journey will continue to Washington, D.C., to embrace their families.
U.S. Administration's Response
U.S. President Joe Biden expressed gratitude and relief over the release of the Americans, highlighting their years of suffering. He articulated in a statement, "Today, five innocent Americans who were imprisoned in Iran are finally coming home." He further acknowledged the collective efforts of Qatar, Oman, Switzerland, and South Korea in this significant endeavor.
The liberation is a testament to the potential results of patient diplomacy, especially considering the turbulent relationship between the U.S. and Iran. After the U.S. exited the Iran nuclear deal during the Trump administration, relationships soured further. Despite this, President Biden's administration has managed to secure the release of Americans not just from Iran, but also from Russia and Venezuela.
The Wider Picture
Amidst celebrations, the U.S. announced impending sanctions against Iran, targeting Tehran's Ministry of Intelligence and ex-Iranian President Mahmoud Ahmadinejad. These are subsequent sanctions under an executive order by President Biden, focusing on penalizing entities or individuals implicated in detaining Americans.
Despite this agreement, the dynamics between the U.S. and Iran remain unchanged. A senior official from the Biden administration asserted, "Iran is an adversary and a state sponsor of terrorism," emphasizing that Iran will be held accountable for its actions.
Moreover, as part of the accord, $6 billion from restricted Iranian accounts in South Korea were transferred to similar accounts in Qatar. This sum, originating from permitted oil sales, will be strictly utilized for humanitarian purposes, overseen by the U.S. Treasury Department.
The agreement also involved the liberation of five Iranians in U.S. custody. While two of them had almost completed their sentences, the remaining three awaited their trial.
Wrapping up the Negotiations
The negotiations, which initially started as indirect discussions, began to take shape in Doha approximately seven months ago. The first visible step under the deal was witnessed around five weeks back when four of the detained Americans were shifted to house arrest.
The negotiations required the U.S. to employ indirect channels, with nations such as Qatar, Oman, the UK, and Switzerland acting as intermediaries. The critical role of brokering the final deal was played by Qatar. Negotiators from the U.S. and Iran convened in different hotels in Doha, while Qatari diplomats facilitated the discussions.
Senior administration officials refrained from specifying when the U.S. President approved the deal but highlighted the principled and persistent diplomacy that led to it.
Personal Stories
Of the released, Namazi holds dual citizenship for both Iran and the U.S. His father, Baquer Namazi, was released in October 2022 after over six years of detention in Iran for medical treatments. Both Shargi, a businessperson, and Tahbaz, an environmentalist arrested in 2018, possess dual Iranian-U.S. citizenship.
Earlier in the year, in a rare conversation with CNN from Evin Prison, Namazi fervently implored Biden to prioritize the freedom of innocent Americans and amplify efforts for his release. The families of Namazi, Shargi, and Tahbaz had been ardently urging the Biden administration to amplify efforts for the release of their kin.