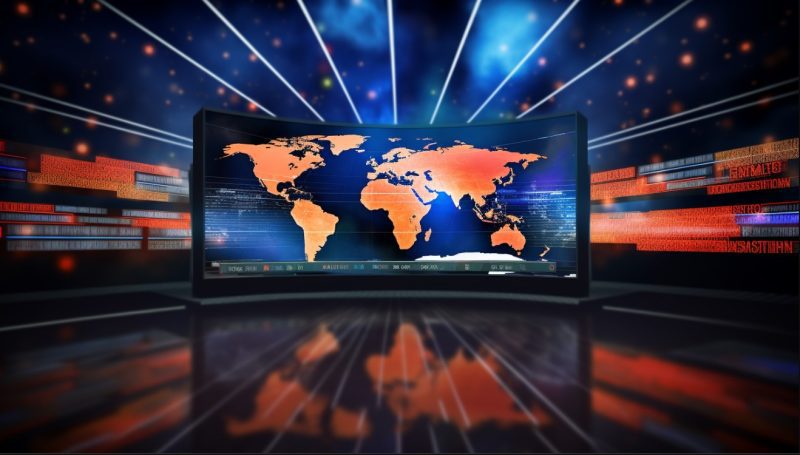 The CNN International Live Stream Home of Rooster's Live News Chat with CNNi Live Streaming News. Watch CNN live streaming video now on your Smartphone! Point your phone browser to our website for full mobile compatibility.
Move your mouse to start the stream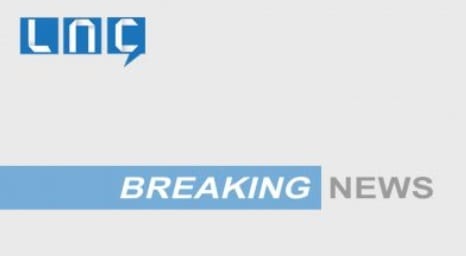 This CNN International live stream & chatroom started back in 2009 on Justin.tv. This CNNi Stream is reliable news broadcasting 24 hours a day. CNNi is broadcast from CNN International World Headquarters in London.
CNN International Live Stream
CNN stands for the CABLE NEWS NETWORK. CNN International began broadcasting on September 1, 1985, at first primarily broadcasting to American business travelers in hotels. The first studio for CNNI was at CNN's original studio building known as Techwood. The Slogan for CNNi is "GO THERE".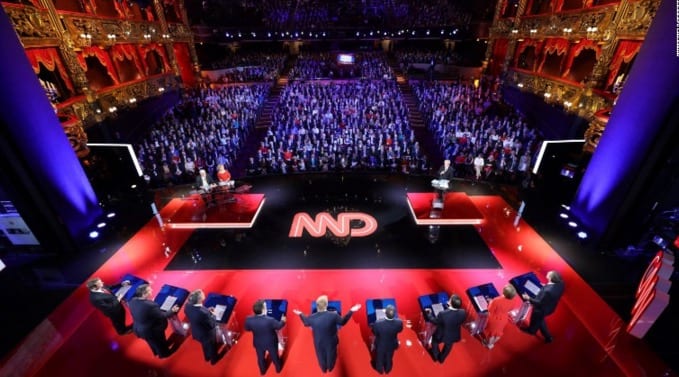 CNN International Live Stream Schedule (Weekdays)
| Time (GMT) | Program |
| --- | --- |
| 4.00 AM | CNN Newsroom with Michael Holmes |
| 4:45 AM | World Sport |
| 5:00 AM | CNN Newsroom with Michael Holmes |
| 6:00 AM | CNN Newsroom with Robyn Curnow |
| 6:45 AM | World Sport |
| 7:00 AM | CNN Newsroom with Rosemary Church |
| 9:00 AM | Early Start with Christine Romans and Laura Jarrett |
| 10:00 AM | New Day |
| 12:30 PM | World Sport |
| 1:00 PM | First Move with Julia Chatterley |
| 2:00 PM | Connect the World |
| 2:45 PM | World Sport |
| 3:00 PM | Connect the World |
| 4:00 PM | One World with Zain Asher |
| 4:45 PM | Marketplace Africa |
| 5:00 PM | CNN Newsroom (CNN/US) |
| 6:00 PM | Amanpour |
| 7:00 PM | Quest Means Business |
| 7:45 PM | Connecting Africa |
| 8:00 PM | The Lead with Jake Tapper |
| 10:00 PM | The Situation Room with Wolf Blitzer |
| 11:00 PM | Erin Burnett OutFront |
| 12:00 AM | Anderson Cooper 360 |
| 1:00 AM | Cuomo Prime Time |
| 2:00 AM | CNN Tonight with Don Lemon |
CNN International has established itself as a reputable source of news in many international countries. The network commonly known as CNNI carries the same CNN logo as in the United States. This branch of CNN works closely with parent network CNN's national and international news bureaus. The major difference is that, unlike its sister channel, CNN, it is not only available to a North American audience.
They broadcast from many different TV platforms across the world, as well as from studios inside and outside the US, in Atlanta, New York City, London, Mumbai, Hong Kong, and Abu Dhabi. It can be viewed as a free-to-air network in some countries. The news service is specifically aimed at the overseas market and shows on channels such as France 24, DW, CGTN, NHK World or Al Jazeera English.
History
CNN International from 1985 to 1995
The first viewers of CNN International following the launch on September 1, 1985, were mostly American business travelers in hotels. The first studio used for CNNI broadcasts was CNN's original studio building known as Techwood. Techwood was already home to all of Turner Broadcasting System's channels. Since that time network has become part of the Turner Studios complex that houses other entertainment channels.
At first, the network did not get the respect it wanted and was once housed in Atlanta virtually hidden away in parts of the CNN Center. It is said that at that time the newsroom did not even have a digital clock. In the beginning, most of the simulcasts were on two domestic CNN channels. Those were CNN/US and Headline News.
That all changed In 1990 when there was a surge in the news programming produced by CNNI especially for the intended viewership of international viewers. This led to a significant increase in international viewership. This boost led to the network being upgraded with a new newsroom and studio complex in 1994. Competition with BBC led to CNNI producing even more international news. This push saw them bring in staff members of various national backgrounds.
On July 4, 1997, CNN International was awarded the Liberty Medal. Ted Turner, who accepted the medal described what he was trying to achieve when he launched the network. "My idea was, we're just going to give people the facts… We didn't have to show liberty and democracy as good, and show socialism or totalitarianism as bad. If we just showed them both the way they were … clearly everybody's going to choose liberty and democracy."
Post-1995
CNNI's logo was given a facelift on February 1, 1995, and that logo was used up to December 31, 2005. The creative director Morgan Almeida came up with a progressive rebranding strategy, to enhance and target CNNI's diverse global market. One of the key changes was to make the studio look less American by introducing a cleaner, simpler "international" aesthetic.
Even though the effort for a new international look was achieved from January 1, 2006, to September 21, 2009, the network underwent another major overhaul. This time it was overseen by Mark Wright and London agency Kemistry. Some of the changes included that the ticker was replaced by a flipper, on-screen graphics were more unified and from October 2007 until August 2008, new studios were progressively rolled out.
As CNNI evolved several new shows became more popular. They included international news personalities such as Amanpour. On September 21, 2009, the channel introduced a new tagline, "Go Beyond Borders", and a new logo. This change would see them consolidate all their major newscasts including World News, CNN Today, World News Asia, World News Europe, and Your World Today into one news report called World Report.
Current Shows & Hosts
CNNI has established itself as a leader in international news and now has many popular programs. Some of the more popular ones are:
Amanpour
Renowned British-Iranian journalist Christiane Amanpour conducts interviews on this program which airs weeknights 6 pm GMT/1 pm ET & 7 PM CET on CNN International. The show has a wide reach and is also shown on CNN Brazil from March 16, 2020, and CNN Philippines via tape delay, occasionally.
The show features three segments namely "The Brief", an interview segment, and "Imagine a World", which is Amanpour's final thought on a topic that was not discussed on the show. The program is done entirely remotely.
Anderson Cooper 360°; produced by CNN/US
This news show airs on both CNN and CNN International and is presented by CNN journalist and news anchor Anderson Cooper. As of May 20, 2019, 360° has been broadcast live from CNN's set in Studio 21L at CNN's offices in 30 Hudson Yards in New York City. The show currently airs weeknights live from 8:00 pm to 9:00 pm ET,
CNN Newsroom; produced by CNN/US
Newsroom features live and taped news reports, and is broadcast for about 43 hours weekly. The show also features analysis from experts on the issues being covered along with headlines throughout each hour. The program is considered general rolling-news programming debuted on September 4, 2006, replacing CNN Live Today, Live From, CNN Saturday, CNN Saturday Night, CNN Sunday, and CNN Sunday Night.
Don Lemon Tonight
Don Lemon Tonight which was previously known as CNN Tonight with Don Lemon is a late evening news program featuring interviews and commentary airing on CNN and CNN International, hosted by Don Lemon.
The show currently airs weeknights live from 10:00 pm to midnight ET, with a replay at 2:00 am to 4:00 am ET.
Criticism
As is common with many news channels the network has faced several different types of criticisms over the years.
To dominant a US-centric viewpoint
The former CNN Beijing and Tokyo bureau chief Rebecca MacKinnon once alleged that CNN International was skewed to "produce stories and reports that would be of interest to CNN USA." She did however admit that she would be given more time if requested.
CNN executive Eason Jordan defended the network saying "No matter what CNN International does, as long as CNN's headquarters is in the United States people are going to say, well, it's an American service. But the reality is that it's an international service based in the United States, and we don't make any apologies about that."
The network was accused of having a pro-American bias
The network has been accused of having a less detached style of on-the-ground coverage. This is mainly because of how extensive they try to make their coverage. Many Middle Eastern nations, have accused CNNI of having a pro-American slant.
Anti-China bias
CNNI has been accused by a Chinese website, anti-cnn.com, of being biased and reporting against China. They even came up with the catchphrase "Don't be so CNN" which became very popular in Chinese culture.
Propaganda and censorship
In October 2011, Amber Lyon, made serious claims against the network when she told the Syrian government news agency SANA that she had been directed by CNN to report selectively, repetitively, and falsely in order to sway public opinion in favor of direct American aggression against Iran and Syria.
She also claimed to have met with Tony Maddox, president of CNN International, twice about this issue in 2011 and alleged that during the second meeting she was threatened and told to stop speaking on the matter. She was eventually dismissed.