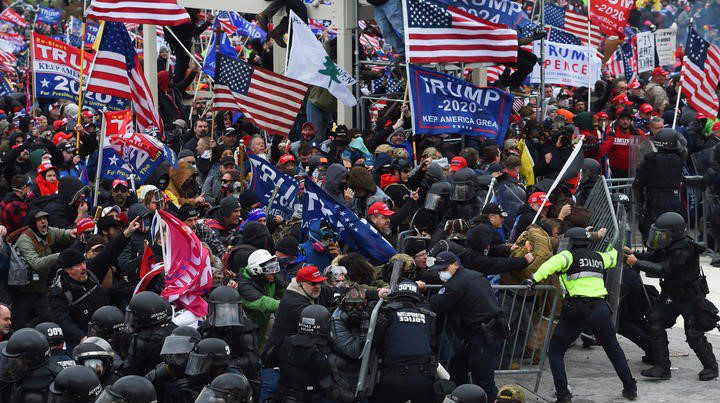 The latest on the JAN 06 hearings on Tuesday by the House Select Committee on the attempted coup dug in on Trump's activation of violent extreme right-wing terrorists in his attempt to overturn the 2020 election and seize unto himself dictatorial power.
The hearing rehashed previously reported elements of the coup to reverse Trump's defeat by a hefty margin at the polls. Trump's own White House lawyers and DoJ officials repeatedly informed him there was zero basis for his claims of a stolen election.
It did, however, bring forth frightening videos and tweets posted by his extremist supporters, demonstrating that Trump's call to action on December 19 for a mass rally on January 06 ("Be there, will be wild!") was, as a committee member flatly stated, "A call to arms."
Clips were used by the committee from the eight-hour deposition given last Friday by Trump's White House Counsel Pat Cipollone to underscore testimony given last month by former White House aide Cassidy Hutchinson on the former president's calling up armed supporters to invade the US Capitol Building and stop the certification of the Electoral College vote in its tracks.
Cipollone described the tempestuous conclave held at the White House deep into the night of December 18, four days after the electors picked by the popular vote in each state had gathered and certified Biden's victory by a margin of 306 to 232 electoral votes.
In attendance, Trump's fired former national security adviser Lt. General Michael Flynn (retired), conspiracy lawyer Sidney Powell and the at that time-CEO of Overstock.com Patrick Byrne suggested Trump demand that the US military to seize voting machines and appoint Powell as independent counsel to investigate vote fraud.
Cipollone and another White House lawyer intruded into the sub rosa meeting and excoriated the contrivance, pushing Trump to stand down from issuing the necessary orders.
Some hours subsequent, in the early morning hours of December 19, Trump posted his tweet calling for his faithful to swarm into Washington DC and "Stop the Steal" on January 6. He vowed that the day "will be wild."
There was no doubt that this was a call for far-right extremist violence, including but not limited to murder, subjected against elected officials and others in deep opposition to Trump, both on January 06 and subsequently, was documented by the statements and instigations of leaders of the Proud Boys, Oath Keepers and other fascistic paramilitary organizations, along with extremist far-right bloggers, including Alex Jones.
The committee showed off tweets including: "We need volunteers for the firing squads." "Why don't we just kill all Democrats?" "Bring handcuffs and wait near the tunnels." "I'm locked and loaded and ready for Civil War part two." "Is this D-Day… We will need volunteers for the firing squad."
Rabble rousers at a Washington D.C. rally of Trump dead-enders on January 05 included "Stop the Steal" founder Ali Alexander and Alex Jones, who called for a new "1776."
A two witness panel was featured at the second part of the hearing. Stephen Ayres, who not long ago pleaded guilty of disorderly conduct regarding invasion of the Capitol as part of Trump's mob scene, affirmed that he was certain that the election had been spirited away on the basis of social media posts by Trump and his crew but had since demurred.
Jason Van Tatenhove joined the Oath Keepers in 2014 and handled the group's media operations until he left several years ago, described the organization as "dangerous, racist and white supremacist." He said he quit after a conversation in which members engaged in holocaust denialism.
When asked about Oath Keepers leader Stewart Rhodes' demand for Trump to invoke the Insurrection Act on January 06, Tatenhove declared, "It would have been an armed insurrection… They see in Trump an opportunity to become a paramilitary force."
When asked if he had ever heard Rhodes speak of perpetrating violence against elected congressional members, Tatenhove stated, "Yes. He wanted me to create a deck of cards of people to take out, different politicians, judges, including Hillary Clinton as the queen of hearts."
He went on to say that the US citizens were "exceedingly lucky" that more bloodshed did not occur on January 06, and stated he feared what the next election would bring.
The committee next filled in the links between Trump's closest advisors, including Flynn and Roger Stone, and far-right organizations of the Proud Boys and the Oath Keepers sort. It noted that Trump issued pardons to both Flynn and Stone, who were facing criminal indictments regarding the Mueller investigation, between the November 3, 2020 election and January 6, 2021.
A photograph of Flynn and Patrick Byrne being guarded by a Proud Boy was shown by the committee. Stone was shown in a video about his "Friends of Stone network," which includes the Proud Boys, calling himself a "Western chauvinist." (continued after video…)
Flynn has demonstrable associations to the First Amendment Praetorian group, which provided security for him when he spoke at a pro-Trump march in Washington in December 2020. Joining that group in providing security for the event were the Oath Keepers, including Rhodes.
The committee also cited a chat group called "The Ministry of Defense" in which Proud Boys and Oath Keepers conferred regarding tactical plans for January 06, including pinpointing police locations.
Panel member Jamie Raskin pointed out that Kelly Meggs, a leader of the Florida Oath Keepers, held direct discussions with Stone on January 05 and January 06.
Trump twice consulted with Stephen Bannon on January 05, according to White House logs examined by the committee. That day, on his podcast, Bannon informed his audience that "all hell is going to break loose tomorrow."
The hearing provided proof that the attack on Congress had been decided on well before any "last minute" call for the crowd assembled at the Ellipse on January 06 to march to the Capitol and force Congress to halt the certification, as claimed by Trump.
The panel pointed out that after a January 02 telephone call with White House Chief of Staff Mark Meadows and Katrina Pierson, a former Trump advisor who was involved in organizing the January 06 rally at the Ellipse, sent an e-mail to other organizers proclaiming that the president intends to "call on everyone to march to the Capitol."
And in a January 04 text message, Kylie Jane Kremer, another rally planner, emphasized the requirement to keep quiet the plan to march on the Capitol.
Totally evaded in the hearing, as in all of the prior ones, were a number of obvious questions: Why was nothing done to stop the coup conspiracy, which was being carried out in the broad light of day? Why were the plotters, beginning with Trump, not arrested and put in jail? Why was the public not alerted to the danger of mass murder at the hands of fascist paramilitary killers? Why were no measures taken to secure the Capitol? And why are the plotters—Trump, Flynn, Giuliani, Powell, Bannon, Eastman, Stone, etc.—still at large and free to prepare for the next coup?