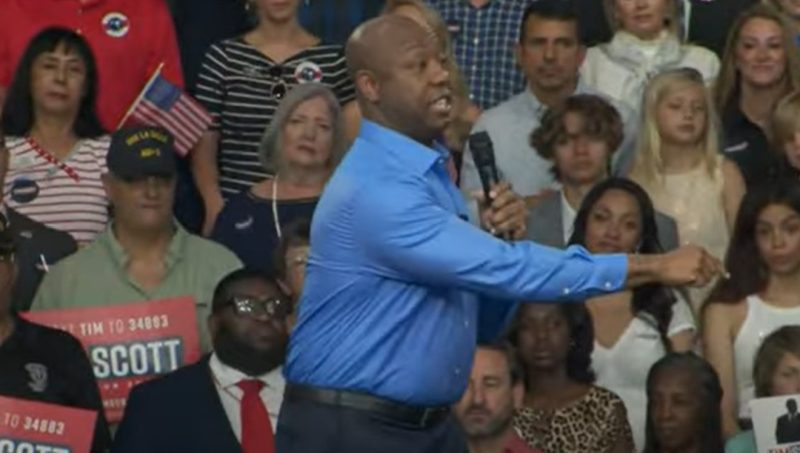 Well, folks, the news is out: South Carolina Senator Tim Scott has thrown his hat into the ring for the 2024 Presidential race. You heard it right, the man who once said "America is the greatest nation on God's green earth" is now keen to be its commander-in-chief​​. Isn't it adorable when politicians get ambitious?
But let's rewind a bit. It was a scene straight out of a feel-good Hollywood movie: Scott on stage, spotlight shining, making his grand announcement. And the cherry on top? His favorite American – his mother – right there beside him. You see, nothing says "I'm just like you" better than a heartwarming mother-son moment on stage. "Thank you for your hard work and your dedication. Thank you for believing in me when no one else did," he said to her, not missing a beat. And oh, how we hope she still does, considering the wild ride that is the Presidential race​​.
Of course, Scott wasn't alone in his cinematic announcement. The senate's number-two Republican John Thune was there, too, to provide a stirring introductory speech. He called Scott "the real deal" who would "make a great president of the United States"​​. And yes, you read that correctly. The "real deal" – as opposed to all those other counterfeit presidential hopefuls, I presume.
Now, you might think that a Senator announcing his presidential bid is big news, and you'd be right, but it seems that the Republican party is having a bit of a "Presidential hopeful" sale this week. With Scott's announcement, the Republican field has become more crowded than a Walmart on Black Friday. You see, Florida governor Ron DeSantis is also expected to announce his bid later this week. And let's not forget Nikki Haley, the other South Carolinian in the race. It's almost as if they're handing out Presidential candidacy announcements like free samples at Costco​.
So, why, you ask, are these Republicans so eager to jump into the race, despite the formidable presence of Donald Trump, who's currently dominating the polls? Well, it's partly because Election Day is still more than a year away, and in politics, a lot can change in a day, let alone a year. Running for president is, after all, the ultimate political aspiration, the stuff of dreams for politicians everywhere. But the elephant in the room, or rather, the elephant not in the room, is the fact that Trump seems to be in quite a bit of hot water, which could potentially derail his campaign​​. Ah, the drama of it all.
But back to our man Scott. He's picked up some high-profile support, most notably from Larry Ellison, the CEO of tech giant Oracle. Because nothing says "I'm serious about this" like a billionaire tech tycoon by your side​. So, Scott has the support, the ambition, and the mother-son Hollywood moment to boot. But will that be enough? Only time will tell.
So buckle up, America. The Presidential race has just gotten a little bit more interesting, and a whole lot more crowded. Stay tuned for more hard-hitting commentary and, of course, the inevitable political drama. Because in the end, that's what makes America the "greatest nation on God's green earth," isn't it?