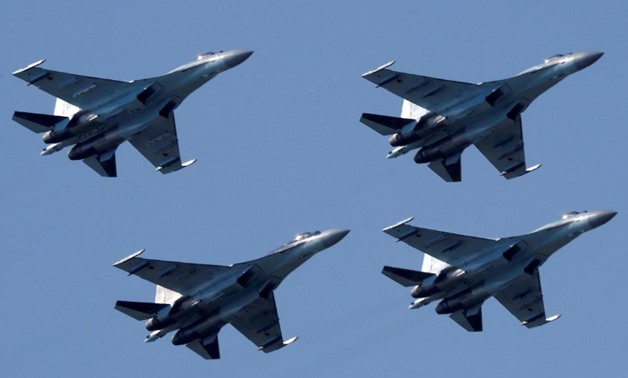 Russia is looking to source aircraft supplies from Asia and a Moscow official has admitted that China has refused to supply Russia with aircraft parts after the industry was hit with the heavy Western sanctions.
According to Russian news agencies, Russia is looking to source supplies from other countries, including Turkey and India. Valery Kudinov, a federal air transport agency whose responsibility is maintaining airplane quality was quoted as saying that the adjustment came after a failed bid to obtain supplies from China, who by the way, showed concerns about the sanctions on Russia. This refusal could possibly be the initial small crack in support of Putin's invasion in Beijing, after they said that the invasion is "deeply worrying". However, the Communist party is avoiding taking sides due to diplomatic relations and has yet to condemn the invasion. But, they have also blamed the US and NATO for cornering Russia to a "breaking point". Basically, they are not here nor there.
Russia's aviation sector was severely hit after the Western sanctions, with Boeing and Airbus all halting their supplies of components. The Russian foreign minister cautioned this week that the Russian passengers safety is at risk amidst these sanctions. Kudinov mentioned that the Russian companies are now registering their planes in Russia after the EU and the US sanctions, where previously many of the aircrafts were registered abroad.
A law draft published on Thursday specified the Russian government's plans to order domestic airlines to pay for leased aircraft in rubles. And if the leases are canceled, then this could lead them to prevent returning the planes to foreign companies.
At a daily news briefing, Zhao Lijan, Foreign Ministry Spokesman said that China's position on the invasion is "consistent and clear cut". And when asked if China was ready to put a stamp on the war as Russia's invasion, he said, "I don't think the question is of any point.' Looks like he doesn't understand the meaning of consistency and clear cut.
He also voiced concerns about US's sanctions, saying they should take China's take on the sanctions seriously, as he warns they "will never bring peace and security". In addition, he also said that the West shouldn't ignore China's rights or interests by imposing severe sanctions on Russia. This comes from the trading concern- China shared $150 billion in trade with Russia and these sanctions could indirectly damage its own economy. He is basically saying the same thing as Xi Jinping, who said the day before, "Regarding the impact of sanctions on global finance, energy resources, transport and supply chain stability, in terms of a world economy already burdened by the pandemic, it is harmful to all sides." US investigators allegedly said that China normally opposes sanctions and dodges restrictions to trade with North Korea, Iran, and Venezuela.
After Mastercard and Visa suspended their operations in Russia, Russian banks said they have plans to issue cards using China's UnionPay system. Zhao also said, "wielding the stick of sanctions at every turn will never bring peace and security but cause serious difficulties to the economies and livelihoods of the countries concerned."
China is in quite a difficult position and is basically walking on a real tightrope. He said that China and Russia will carry out trade operations normally, including oil and gas trade. But, he also pledged humanitarian aid to Ukraine worth 5 million yuan, including food and necessities.
Foreign Minister, Wang Yi, stressed the friendship between Beijing and Moscow was still tight. He said, "The friendship between the two peoples is rock solid, and both sides' future cooperation prospects are very vast." He also proposed that China was willing to work with international organizations and will carry out "necessary mediation, when necessary".
Ever since Xi Jinping took power, Russia and China's diplomatic ties have become stronger over time- one of the reasons being their shared will and desire to face US power. This month, Gazprom, Russian gas giant, said it had signed a deal with China to design a pipeline- a new agreement which would ease Russia's dependence on European buyers. There is yet to see how China will adjust their diplomatic ties with Russia amidst these tough sanctions. However, it appears that China is only aiding Russia partly in certain aspects by helping adjust their supply chain and refusing to condemn the invasion. Obviously, all these aspects have their own economic benefits, but we have to see how China will act as a mediator in peace talks between Ukraine and Russia.