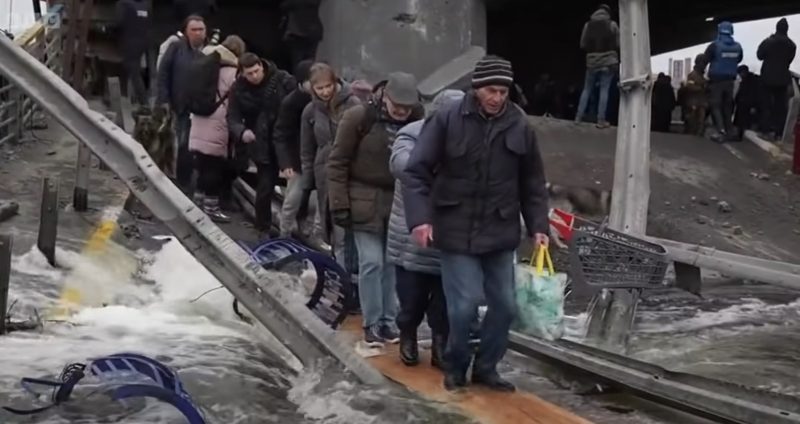 Russia's invasion of Ukraine is seeing the fastest growing refugee crisis in Europe since World War II. With little progress from a third round of talks, Ukraine has called Moscow's plan to force Ukrainians to flee to Russia and Belarus an "immoral" stunt.
Early Monday, Russia made an announcement: a plan to create "humanitarian corridors" for Ukrainian civilians to evacuate cities Kharkiv, Mariupol and Kyiv. This so-called plan came after 2 days of unsuccessful ceasefires in the city of Mariupol. Question: Do Russians understand what humanitarian means? With their rockets crushing cities, more than 2 million have fled to other neighboring countries. People are fighting to board trains, cameras and videos showing shock and exhaustion of people who made it safely. Some with their families and some not. And this is just the beginning. UNHCR, the UN's refugee agency, said the humanitarian crisis will worsen, estimating that more than 4 million people will become refugees. It is reported that more 756,000 refugees have entered Poland and many have to wait more than 60 hours on the border in freezing temperatures. Also, countries such as, Moldova, Hungary, Poland, Romania and Slovakia have opened their borders for them, which is absolutely great, however, many of the people still seem to have their heads in the gutter, since there are videos and reports circulating around of pushbacks and racial discrimination against people of color. Guess nobody truly understands what "humanitarian" actually means.
Ukrainian President Zelensky, accused Russians for purposefully targeting civilians and of "deliberate murder" of them after a family with two children were killed in the street while trying to flee the town of Irpin. Tens of thousands of civilians were still trapped without food or water in the southern port city of Mariupol. Hospitals in the city are facing severe shortages of antibiotics and painkillers, with doctors having to conduct emergency procedures without them.
At least 406 people have been confirmed to be killed since the invasion began, including 27 children and additional 759 wounded. However, a UN monitoring mission said on Sunday that the true numbers were most likely "considerably higher". At least 13 people have been confirmed to be killed by a Russian attack on an industrial bakery in the town of Makariv, about 50 kilometers west of Kyiv. Zelensky said in a zoom call, "They're bombing the life out of everything that is moving. The bakery was eliminated. And this is happening in different cities."
These assaults have been described as a "special military operation" by Moscow that targets Ukraine's military infrastructure.
Talking about Russia's losses, Ukrainian officials reported on Monday that the Russian forces have lost 11,000 people. In addition, according to Ukraine's defense ministry, the Russian military has lost 290 tanks, 999 armored vehicles, 46 aircrafts and 68 helicopters. The Russian defense ministry said on Monday that they have destroyed or "wiped out" 2,396 Ukrainian military facilities. According to a state-run Tass media, citing the Russian defense ministry, the Russian forces have destroyed "827 Ukrainian tanks and other combat armored vehicles". In addition, 300 artillery guns, mortars and 78 drones.
Meanwhile, in Belarus, talks between the two sides have made little progress with reports that the "humanitarian corridors" are expected to start on Tuesday. An adviser of Zelensky, Mykhailo Podolyak said "there were some small positive shifts regarding logistics of humanitarian corridors". Russia's top negotiator, Vladimir Medinsky said, "Our expectations from the talks have failed, but we hope that we would be able to make a more significant step forward next time. The talks will continue." Can you all reach a middle ground already? People are running away scared of an uncertain future, children are suffering from destruction and some are dying while trying to flee their home.