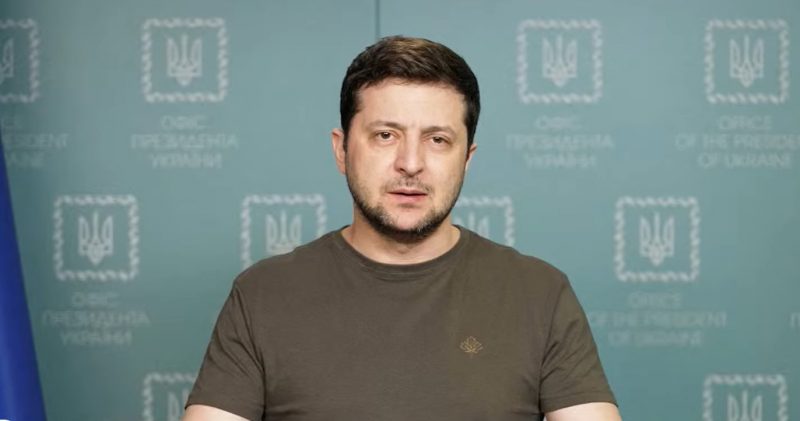 In a speech delivered by Ukrainian President Volodymyr Zelenskyy, he pleaded to Congress to take more aggressive measures to stop the war, including a no-fly zone.
This speech came one day after Biden signed a large spending package, including $13.6 billion in military and humanitarian aid for Ukraine.
Zelenskyy was invited to deliver this speech to Congress by Senate Majority Leader Chuck Schumer and House speaker Nancy Pelosi. She introduced him, followed by the phrase "Slava Ukraini!", meaning "Glory to Ukraine!". 
His speech and intentions were aimed directly at President Joe Biden, accompanied by graphic videos showing destroyed buildings, dead children and mass graves, with the aim to make the lawmakers understand the dire situation.
"Russia has turned the Ukrainian sky into a source of death for thousands of people. Russian troops have already fired nearly 1,000 missiles at Ukraine, countless bombs they used drones to kill us with precision. This is a terror that Europe has not seen for 80 years and we are asking for a reply, for an answer to this terror from the whole terror. Is it a lot to ask for? To create a no-fly zone over Ukraine to save people. Is it too much to ask?"
He also added that if the no-fly zone was not possible, he offered an "alternative"- "powerful, strong aviation" and "aircrafts" to help Ukraine defend against the Russian attacks. "You know that they exist and you have them, but they are on Earth, not in the Ukrainian sky. They do not defend our people."
He also urged Americans to look back in their past, citing Pearl Harbour and the Sept 11 attack, asking them to understand what Ukraine is undergoing right now.
He voiced Martin Luther King's speech saying, "I have a dream. … I can say, I have a need, a need to protect our sky. I need your decision, your help, which means exactly the same, the same you feel when you hear the words I have a dream."
He sincerely thanked Biden for his "personal involvement" to provide for Ukraine, however, he urged world leaders to do more. "Now, it is true in the darkest time of our country, for the whole Europe, I call on you to do more. New packages of sanctions are needed, constantly, every week until the Russian military machine stops. Restrictions are needed for everyone on whom this unjust regime is based. We propose that the United States sanction all politicians in the Russian Federation who remain in their offices and do not cut ties with those who are responsible for the aggression against Ukraine."
After Zelenskyy's 16-minute address to Congress, Biden announced an additional $800 million in military support to be sent to Ukraine, including anti-air systems, shoulder-mounted anti-armor systems, machine guns and grenade launchers. With this, the overall support Biden has authorised to Ukraine totals upto $1 billion in military support just this week.
Biden said at the White House that "this could be a long and difficult battle", but he said that Americans will support Ukrainians as they fight "for their freedom, their democracy, their very survival."
Many lawmakers were visibly shaken and in tears by the graphic videos of civilians, including children, being killed by Russian troops.
"Being the leader of the world means being the leader of peace.", Zelenskyy said at the end of the speech.
After the speech, Pelosi escorted Ukrainian Ambassador, Oksana Markarova, who said in a brief interview with NBC news that the air support will "save more lives" and asked whether Ukraine could survive without a no-fly zone, she said "We will prevail and we will not surrender."
The invasion is entering its fourth week, and till now has killed hundreds of Ukrainians and forced almost 3 million civilians to flee to neighbouring countries.