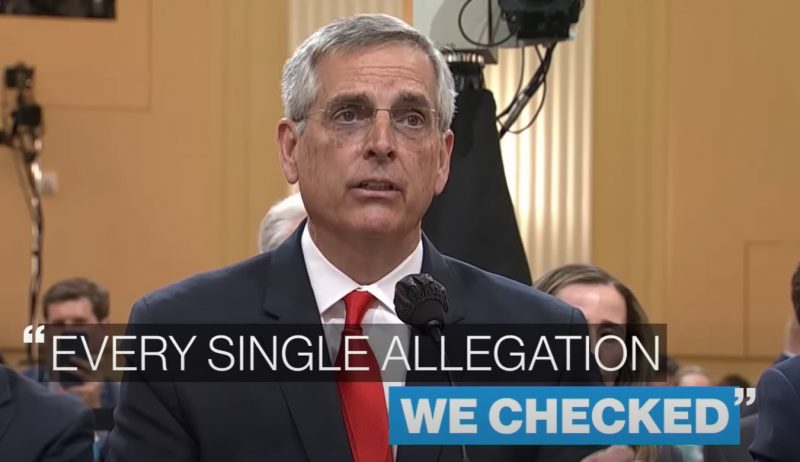 On Tuesday, new details were revealed as to how Donald Trump forced state officials to help him overturn the 2020 elections. The testimonies were from three Republicans,
Georgia Secretary of State Brad Raffensperger, Arizona House Speaker Rusty Bowers and Raffensperger's deputy Gave Sterling.
Rep. Adam Schiff said, "The President's lie was and is a dangerous cancer on the body politic. If you can convince Americans that they cannot trust their own elections, that, any time they lose, it is somehow illegitimate, then what is left but violence to determine who should govern?"
Schiff couldn't have stated it more clearly for the people to understand the kind of influence Trump held and still holds on people. However, some of his own Republicans, like in the previous hearing, outright refused to go along with his lies and manipulation.
This time, there were several witnesses who told the panel that Trump was directly involved in putting forward slates of fake electors in some of the key battleground states. Bowers mentioned the call he received on 22 November from Giuliani and Trump, where they pleaded him to support them and put forward illegal, pro-Trump electors from the state. Bowers told them he didn't want to be used as a "pawn".
On Jan 6th 2021, Bowers also received a call from Republican Rep. Andy Biggs of Arizona, urging him to support the decertification of his state electors for Biden. To that, Bowers replied, "I said I would not."
Even minutes before Mike Pence was in a joint session of Congress to certify the electoral votes, according to text messages obtained by the panel, an aide to GOP Sen. Ron Johnson of Wisconsin asked an aide of Pence as to how Johnson could deliver him the fake slates for Trump from Michigan and Wisconsin. Pence's aide replied back saying that Johnson should "not give that to him".
These were testified on Tuesday and confirmed that indeed Trump's closest allies and Trump himself had a hand and encouraged decertification of Biden's victory. However, people who refused to follow through his plan did not have it easy. Threats were given virtually and even in-person and witnesses revealed new stories about these threats. Bowers said, "At home up until even recently, it is the new pattern or a pattern in our lives to worry what will happen on Saturdays, because we have various groups come by and they have had video- panel trucks with videos of me proclaiming me to be a pedophile and a pervert and a corrupt politician and blaring loudspeakers in my neighborhood."
Raffensperger describes attacks his wife faced after the election, which made him suspect that it was an attempt to make him quit.
The House panel also played deposition from two other GOP officials, Michigan State Senate Majority Leader Mike Shirkey and Pennsylvania House Speaker Bryan Cutler, both testifying against Trump. They mention how Trump repeatedly tried to pressurize them to support the overturning of the elections.. And they described facing the same category of threats from Trump's supporters, protesting outside their homes, blasting them with calls and text messages.
One former Georgia election worker, Wandrea Shea Moss said, "I just don't do nothing anymore. I don't want to go anywhere. I second guess everything that I do. This affected my life in a major way." She also mentioned how helpless she felt, while living in hiding 2 months after the FBI told that she wasn't safe at home. Her mother, Ruby Freeman said in a video deposition, "I have lost my sense of security, all because of a group of people, starting with (Trump) and his ally Rudy Giuliani, decided to scapegoat me, and my daughter, Shaye, to push lies about how the election was stolen."
Raffensperger said, "We had many allegations and we investigated every single one of them. In fact, I challenged my team, "Did we miss anything?". They said that there were over 66,000 underage voters, we found that there was actually zero. They said that there's 2423 non-registered voters; there were zero. They said there were 2056 felons, we identified less than 74 or less that were actually still in felony sentences. Every single allegation we checked, we ran down the rabbit trail to make sure that our numbers were accurate.
These were the people who actually endorsed and supported Trump in 2020. The House panel has turned to Trump's own to testify against him to make their case stronger. And maybe it is getting stronger.