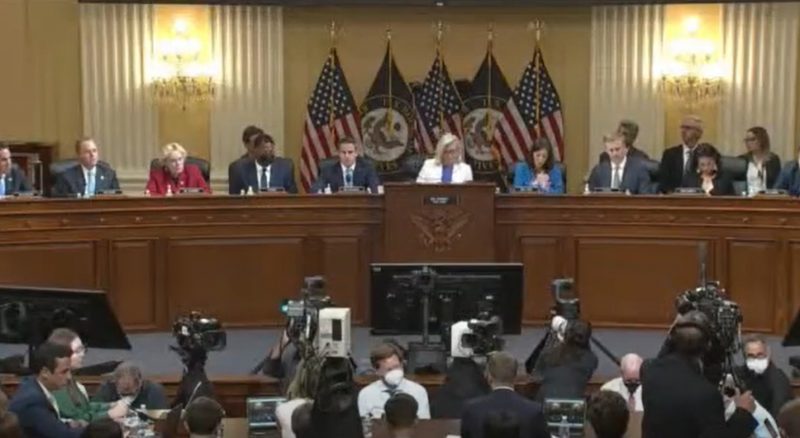 The ninth broadcast was intended to be the investigation's conclusion, with a primetime schedule that would allow the congresspeople to review their findings, reiterate their most incisive analyses of Donald Trump's legal violations and moral derelictions, and present their conclusive argument to their two main audiences, the American people and the attorney general, Merrick Garland.
They also intended to do this by exposing Trump's actions in the White House during the riot's early hours, actions that were notable not for Trump's cunning but for his passivity. What was Trump doing at those critical moments when our constitutional form of government was in jeopardy, democracy was at stake, violence broke out, and lives were in danger? He did not step in to end the uprising, provide commands, or assist the military and law enforcement agencies that might have put it down. He mostly simply sat there, arrogant.
Trump's inaction is obviously damning in and of itself, but it provided a challenge for the committee since it makes for boring television. The committee hearings on January 6 have a lot of political weight, but they also have a lot of power because of their spectacle, high production standards, and ability to engage and delight. But there is no story behind Trump's carelessness, inaction, or inactivity during those moments.
However, the committee's presentation did an excellent job of quickly illustrating the risks associated with Trump's failure to stop the mob. Trump spent most of the uprising's early hours huddled up in a West Wing dining room, watching a TV affixed to a wall while Fox News reported on the mounting carnage. We know that during these hours, Trump called several Republican senators, including Alabama's Tommy Tuberville, pleading with him to block the election certification even as he was fleeing the Capitol to avoid the crowd. We are aware that Republican congressmen called him, including minority leader Kevin McCarthy, pleading with him to disperse the mob while McCarthy and his staff hid in fear. We know that he received admonitions and pleas from people like White House Counsel Pat Cipollone, who in taped testimony appeared enraged and disdainful of his former client and identified himself as one of many advisors pleading with Trump to disperse the murderous mobs that were by that point swarming the Capitol corridors in search of Mike Pence.
The committee had previously been extraordinarily kind to Republicans, portraying Pence as a hero for merely refusing to assist a coup, repeatedly praising the bravery of Republican witnesses who had helped Trump commit other crimes, and extolling the beauty and integrity of the very institutions whose failures had ultimately led to January 6 itself. However, Thursday's hearing marked a change from other sessions in that it was prepared to call fellow Republicans to account, or at the very least, mock their hypocrisy.
The committee members frequently alluded to Kevin McCarthy, the head of the Republican Party in the House, who has subsequently made a major campaign to win back Trump for the party. They presented video of Mitch McConnell blaming the prior president for the assault, and McConnell has stated he will back Trump in 2024. Following the memorable image of Missouri senator Josh Hawley pumping his fist in support of the rebellious mob, they displayed security video from the Capitol following the rioters' invasion. Hawley could be seen later desperately running to escape the mob.
Trump's inaction changes when seen in the light of all this dread and rage from the men who had long served him and sought his favor. It becomes apparent as a deliberate choice rather than as a passive failure. People who had been his most faithful sycophants for years were imploring him to take action and stressing that the country and countless lives were at risk all around him, in his presence, and through his phone. Given this, it is challenging to justify Trump's inaction as any of the things that his misdeeds are typically justified as, such as ineptitude, childish narcissism, or low-stakes petulance. His behaviors start to appear cruel rather than just mendacious.
The hearing on Thursday night also significantly contributed to shattering the aura of spectacle that has enveloped Trump. Outtakes from his Rose Garden video from the evening of June 6 were shown in archive clips. In that video, after it became evident that his attempt to overthrow the election would fail, he ultimately told the mob that he "loved them and to go home". In the video, Trump is seen hesitating to speak and constantly asking an adviser off-camera whether he should begin. He glistens at his own reflection in the camera and forgoes his prepared statements in favor of delivering a strange, meandering, and scarcely understandable message to his fans.
Outtakes from a speech he recorded the following morning, after the audience had left, show him stuttering and angrily criticizing the script. The sentence from his statements is omitted because he stubbornly refuses to declare that the election is over.
The tape is most remarkable, though, due to the way Trump comes out as fumbling and diminutive and how sharply his personal pettiness and intellectual vacuity contrast with the gravity of what he has done. His speech is slurred since he can't talk clearly. He slams the podium in anger because he can't say "yesterday." For me, the term yesterday is difficult, he admits. "Is it defied or defiled?" he asked. It may be both.
Key moments from the hearing are brought to you below from ABC News video.