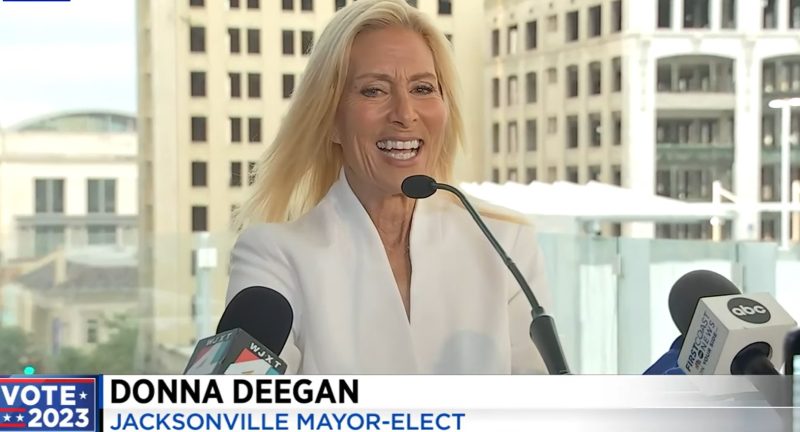 In a stunning twist of political fortune, Donna Deegan, a Democrat, emerged triumphant in the Jacksonville mayoral election held on Tuesday. This victory has ignited a newfound optimism within Florida's Democratic ranks, reeling from a tough loss in the 2022 midterm elections and written off by national party members.
Facing her rival, Republican Daniel Davis, Deegan began Election Day as the perceived underdog. Davis, the city's Chamber of Commerce leader, had the benefit of superior campaign funds and an endorsement from Gov. Ron DeSantis. However, DeSantis' endorsement was perceived as half-hearted, with no significant campaign efforts made on Davis' behalf.
Final tallies from all 186 city precincts revealed Deegan leading by a margin of 52% to 48% against Davis, who sought to succeed the term-limited Republican Mayor Lenny Curry.
In her victory speech, an exuberant Deegan said, "Everyone said it could not be done in Jacksonville, Florida. We did it because we brought the people inside."
Deegan's victory was acknowledged by the official Twitter account of Jacksonville city, stating, "We look forward to your leadership and vision as you help guide our City into the future."
Davis, in his concession speech featured on Florida Politics, urged unity, saying it was time to "come together now and move our city forward."
Deegan, a former TV anchor with strong local recognition, later established a non-profit organization devoted to breast cancer research. She has now become the city's first female mayor.
This victory in Jacksonville, previously the most populous city led by a Republican mayor, is a significant morale booster for Florida's Democrats. They have suffered a string of losses recently, including the 2022 midterms, where DeSantis won re-election by nearly 20 percentage points, also winning Duval County, primarily made up of Jacksonville, by 12 percentage points.
Government law attorney Chris Hand, who served as a chief of staff to former Democratic Mayor Alvin Brown, said, "Just when people thought they had Jacksonville figured out, the voters have confounded expectations. Donna Deegan's win is historic, not just because of who she is but also because of how she won: by running a positive campaign and building a coalition of Democrats, No Party Affiliation Voters, and even some Republicans."
The political landscape of Duval County has seen dramatic shifts over recent election cycles. Democratic gubernatorial candidate Andrew Gillum claimed it in 2018, while Joe Biden became the first Democratic presidential nominee to win the county since Jimmy Carter in 1976.
While this early-cycle victory is undoubtedly a significant leap for Democrats towards the 2024 election cycle, they will still have to navigate the strategic disadvantages in a state marked by recent political defeats. The number of Republican registered voters in the state currently surpasses that of Democrats by over 400,000.
Yet, this victory marks a promising start for the new state Democratic Chair Nikki Fried, elected to the position in February. Fried, tasked with the difficult job of rebuilding the party in what was once known as the country's largest swing state, stated, "For too long, Jacksonville has been led by Republicans who are hellbent on taking away our rights, and it's past time that the city is led by leaders with new, fresh ideas who have a plan for Jacksonville."